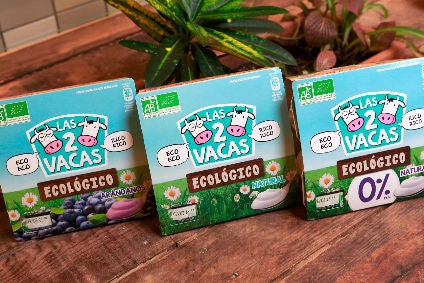 Danone has launched its organic yogurt brand Las 2 Vacas into the Spanish market with the roll out of four varieties.
The French group has introduced natural, natural 0% fat, blueberries and chocolate variants under the Las 2 Vacas brand this month. Las 2 Vacas has an RRP of EUR1.99 (US$2.21) to EUR2.29.
The product is available in hypermarkets nationwide as well as "small and specialised" outlets in Madrid, Catalonia, Basque region and the Balearic Islands. Danone said in the second phase of the roll-out it aims to offer the brand in "all outlets" throughout Spain.
The company said it hopes to benefit from demand for organic products in Spain, with 25% of consumers opting for organic food "at least once a month". Yoghurt is among the "top ten" organic food purchases in the country and increased availability should help drive category growth, Danone suggested.
Las 2 Vacas is on sale in the group's domestic market.