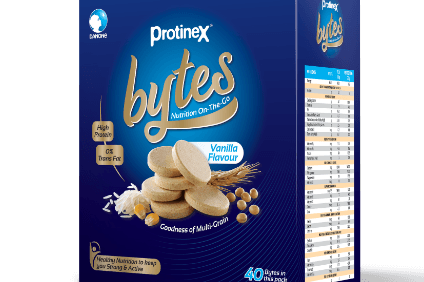 Danone has launched a line of protein-enriched snacks in India, targeting the under-consumption of the nutrient in swathes of the country's population.
The dairy and infant-formula giant is rolling out Protinex Bytes into a market where it says 80% of "daily Indian diets" are "deficient in protein".
Rodrigo Lima, the managing director of Danone's business in India, added: "To compound the problem, majority of the people (85%) believe that they are getting enough protein in their diet."
Protinex is a brand Danone acquired in 2011 when it bought the nutrition arm of local pharma business Wockhardt Group. The Protinex range has centred on powdered products. Danone said the new line had been developed with growing demand in India for convenient foods in mind, while the company added it was trying to give consumers a healthier option for a snack.
"Today, protein consumption is limited to home as Protinex powder is the only format available. Also, with changing lifestyles there are more snacking occasions in a day with most options being high in fat and sugar but low in protein. Replacing these with Protinex Bytes which is rich in protein, vitamins, minerals and multigrains will be a healthier and convenient option," Himanshu Bakshi, marketing director for Danone's Indian arm, said. "With Bytes, our objective is to take Protinex consumption out-of-home, making it more convenient and accessible for our consumers which helps them get closer to their daily protein requirement anytime, anywhere, on-the-go."
Danone said it had launched Protinex Bytes "nationally". The product is being with a vanilla flavour and in two SKUs of 100g and 200g, priced at INR145 and INR280 respectively.