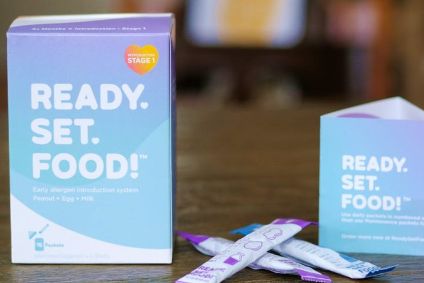 French dairy giant Danone has led a US$3m funding round in Ready, Set, Food, a US company seeking to help prevent food allergies in children.
Danone invested in the California business through its New York-based venture fund arm Danone Manifesto Ventures, alongside investor and entrepreneur Mark Cuban and AF Ventures.
Ready, Set, Food creates supplements that are added to a baby's bottle or food. They gradually introduce the baby to peanuts, eggs and milk and are said to reduce the risk of babies developing allergies to those products.
The Los Angeles company, founded in 2017, suggests its data demonstrates that its process can help reduce the risk of developing food allergies by up to 80%.
Daniel Zakowski, CEO and co-founder of Ready, Set, Food, said: "We are thrilled to be partnering with Danone Manifesto Ventures and Mark Cuban to bring critically needed attention to food allergies. Danone is one of the world's top infant nutrition companies and we look forward to leveraging our strong relationship with the Danone Manifesto Ventures team and Mark Cuban to further our work towards helping to prevent babies from developing most severe food allergies."
Laurent Marcel, CEO of Danone Manifesto Ventures, said: "Ready, Set, Food has an outstanding team passionately committed to supporting even more parents in further reducing food allergies among babies. We look forward to working closely with them – alongside Mark Cuban and other investors – to advance their important vision and help enhance the health of future generations."
Cuban, who has a daughter with a severe peanut allergy, previously invested in the business through the US television show Shark Tank. AF Ventures, formerly known as AccelFoods, is a US venture-capital firm in which Danone invested in 2017.
Read – Big Food's stake in the future – in-house venture-capital funds