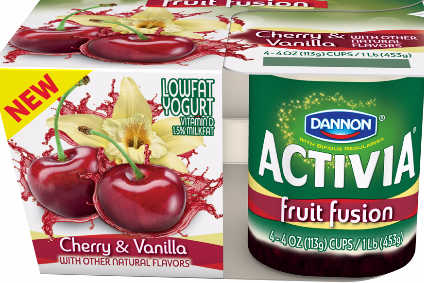 French dairy giant Danone has lowered its forecast for annual sales on an organic basis, citing market conditions in Spain and the performance of its Activia brand.
Danone said that it now anticipates its full-year organic sales to be "slightly below target" due to the "below expectations" performance of its fresh dairy business in Spain, which accounts for around 5% of group sales.
"In the fourth quarter, Activia's performance, as well as aggravated market conditions in Spain, have impacted Europe dairy results," the company noted. "The implementation of Activia's new brand identity across Europe has been well received by consumers and Danone will continue to build on it. Nevertheless, local execution plans are being reworked and teams have already started to implement them country by country."
Danone had forecast its like-for-like sales would grow by 3-5% in 2016.
The company did, however, suggest that it expects comparable operating margins to "be above target" for the year. Danone had previously indicated it expects to deliver a 50-60 basis point improvement in margins.
"Throughout the year and in an increasingly volatile and complex environment, Danone has consistently focused on disciplined resource allocations to support strategic growth opportunities, avoiding short-term tactical allocations. In addition, Danone has continued to work on its efficiencies and cost optimisation," Danone said.
Consensus analyst forecasts had placed Danone's organic sales growth at 3.4% and its operating profit margin improvement at 60 basis points.
"We think that FY-16 earnings will not change materially as the lower organic growth rate will be compensated by the higher operating margin," MainFirst analyst Alain Oberhuber wrote in an investor note. "However, Danone will have the lowest organic growth rate in FY-16E of below 3% vs. Nestle of 3.4% and Unilever of 3.9%. Nevertheless, we think that Danone's organic growth rate should accelerate again in FY-17E to around 5.3% due to stronger growth rate in Waters and Early Life Nutrition in China, the higher growth in Fresh Dairy and the higher organic growth rate from WhiteWave."
Separately, on Friday, the European Commission announced it had given its provisional approval to Danone's US$12.5bn acquisition of US-based WhiteWave Foods. Brussels has given the green light to the deal on the condition that Danone sell "a large part" of its growing-up milk business in Belgium.
The transaction is still being scrutinised by the US Department of Justice.