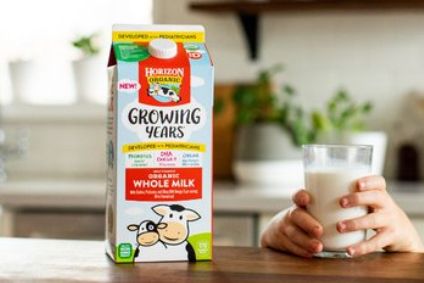 Horizon Organic, the US organic dairy brand owned by French dairy giant Danone, has announced a commitment to become carbon positive by 2025, with the aim of becoming the first national dairy brand to reach this landmark across its full supply chain.
The Broomfield, Colorado-based company said it would progress towards becoming a carbon positive company through a combination of carbon removal, reduction and offsetting.
Mariano Lozano, CEO of Danone North America, said: "Climate change is the challenge of our lifetime. We are out of time on this issue. Food and farming must evolve. This includes helping our farmer partners implement breakthrough regenerative soil practices, cow feed and diet management programmes, and energy efficiency.
"These steps and more will play a significant role in helping Horizon Organic become carbon positive."
Certification of Horizon Organic's carbon emissions and offsetting is to be undertaken by The Carbon Trust, an organisation set up originally by the UK government to help business and the public sector reduce carbon emissions and help drive low carbon innovation.
Horizon Organic said it is currently finalising its full life-cycle assessment process and convening a panel of independent experts to validate the results. The life-cycle assessment will guide specific milestones toward the carbon positive achievement, the company stated. The first of these milestones is the aim that its new Growing Years whole milk half gallons become the firm's first certified carbon neutral product by the end of 2021.