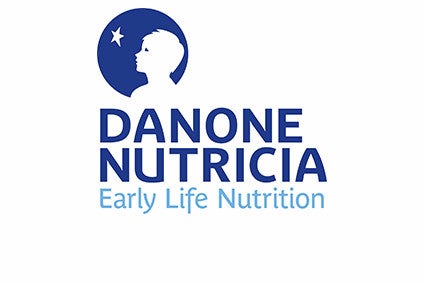 French dairy company Danone has relaunched the complete range of its Cow & Gate jar baby food in the UK as part a new early-life nutrition initiative.
Katie Fordham , science and innovation senior manager at Danone Nutricia Early Life Nutrition, told just-food the 52-jar range of savoury, fruit and dessert options previously included 11 varieties containing added sugar. However, following the relaunch, this has been reduced to three.
Fordham said: "In some cases, we have replaced the old variety with a new recipe focusing on fruit rather than desserts. We have re-formulated other recipes such as our Apple Crumble stage 2 to introduce a sugar-free biscuit plus apple puree instead of juice to achieve an overall 39% reduction in sugar levels."
The products' labels have also been updated to mark the change in recipes, "so the whole look and feel of the range is different", Fordham said.
A key feature of the new look includes the change from a paper label to a transparent plastic label, which Fordham said highlighted the overall difference across the range for the colour of the products to be visible. The company has used its web site to highlight the benefits of the changes to consumers.
The changes follow extensive work by a team of product development experts and a team trained in "sensory development, who were involved at all stages of working on the recipe changes", Fordham said.
Danone is now looking at changing the recipes of a further three as yet unnamed Cow & Gate varieties, with the goal of removing added sugar from those products by 2018.
Fordham said: "This is part of our future plans for this range in the UK. As Danone Nutricia Early Life Nutrition we have a dialogue with parents on our products through our consumer care line and across social media. We will continue to communicate with them on product changes through these channels."
Danone's move reflects a growing trend within the global food industry to review and revise the content of products to meet the demands of increasingly nutrition-aware and health conscious consumers. Such demand is arguably at its strongest among parents seeking to give infants and children a taste for healthier and more nutritious products in their formative years.
At last month's Early Nutrition 2016 conference in London Esther Renfrew, market intelligence director at the food and drink industry consultancy Zenith International, said parents "are becoming more savvy about choosing what they see as best for their children".
Renfrew also highlighted product development opportunities for baby food manufacturers, such as expanding the range of flavoured foods using natural ingredients for infants and children.
"Research shows that if a child is exposed to different flavours early in life they are more likely to eat it later in life too," Renfrew said. "This represents a great opportunity for parents looking to introduce more natural flavoured foods to children at an early age and this is becoming a trend."
Danone said in February it expected like-for-like sales to grow by 3-5%, suggesting the possibility growth could slow in 2016. Early life nutrition fourth-quarter sales increased by 6% to EUR1.33bn (US$1.4bn). Annual sales reached EUR4.99bn, up 9.8% on alike-for-like basis, the company said.