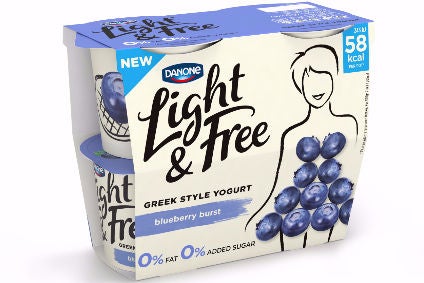 A new range of non-GMO yogurts is being launched by Danone under the Dannon, Oikos and Danimals brands in the US.
Dannon, Danone's US subsidiary, has unveiled its first yogurts containing more natural and non-GMO products under the Oikos, Danimals and Dannon brands, which the company says will develop over time to contain more non-GMO ingredients.
In addition, all Dannon products in the US that have GMO ingredients will be labelled as such, irrespective of any government legislation.
Starting next year, and with the aim of completing the transformation by the end of 2018, Danone claims it is going one step further to ensure that cows that supply Dannon's milk for its flagship brands will be fed non-GMO feed, in what is being hailed a first for a non-organic yogurt maker. This will involve the conversion of around 80,000 acres of farmland to produce non-GMO crops in order to provide non-GMO feed for the milk used to make Dannon, Oikos and Danimals brand products.
"The range of products we make is evolving to provide even more choices," said Dannon CEO Mariano Lozano. "Transparency is the key word for this shift. To show to our consumers that in order to make a real choice, we need clear labels, today we are making a bold change and candidly discussing how transparency from brands is essential for shoppers to make real choices."
Earlier this year, Danone made a commitment to further improving sustainable agriculture practices around its milk supply at its US business. This included increasing transparency of its products portfolio and evolving to more natural and fewer ingredients for its flagship brands, which account for approximately half of the company's sales.
"Choosing to purchase foods with fewer or more natural ingredients, or with or without GMO ingredients, is an important individual decision, and we feel strongly that people have the right to know how companies are making food. This is just the first of many steps towards our continued transparency and one that we hope others will follow," said Lozano.
Meanwhile, the company has teamed up with leading NGOs to help reach their goals. One such collaboration is with Green America, where the focus will mainly be on developing the availability of non-GMO cow feed.
Danone's commitment on GMO labelling comes as the so-called DARK Act passed the US House of Representatives. The legislation will require national mandatory labelling of GMO ingredients – but with certain exemptions and the option to use QR codes rather than on-pack labelling.