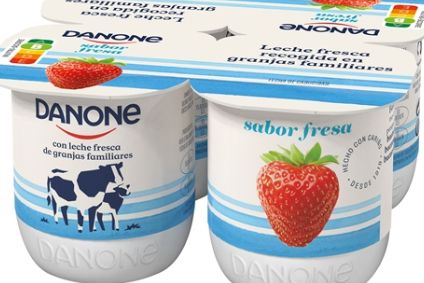 Activia and Alpro owner Danone has put the Nutri-Score nutrition labels developed in France on products on sale in another European market.
Danone, which uses the labels on products in France, Belgium and Germany, said Nutri-Score would appear on all its products in Spain this month.
The French giant has started putting the labels on some products in Spain last autumn.
Danone's domestic market introduced Nutri-Score, a voluntary colour-code system on nutritional quality, in 2017 in a bid to enable consumers to know at a glance a food product's health rating on a scale running from A to E.
"In line with our mission of providing health through food to as many people as possible, Danone wants to promote initiatives that improve the information we offer to our consumers to help them play an active role in their health care," Cristina Kenz, vice president of marketing for the fresh dairy and plant-based products division of Danone, said. "We want to be an agent of change and strengthen our commitment to healthier and more sustainable food, especially among the new generations, and the implementation of Nutri-Score, an objective labelling system developed by independent scientists, it is a great step that helps us get closer to this goal."
Nestle confirmed in November it will use Nutri-Score front-of-pack nutrition labelling on its products sold in five European markets – Switzerland, Austria, Belgium, France and Germany – starting in the first half of this year.
The same month, The Netherlands government expressed support for the labelling scheme, with plans for the labels to be introduced in 2021.