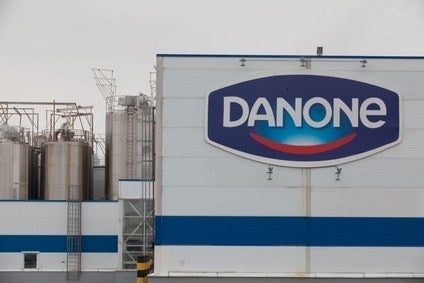 Danone increased organic sales in 2014 as a rebound at its infant nutrition business offset softness at its dairy unit.
However, on a reported basis the group's earnings performance was down year-on-year.
Sales rose 4.7% on a like-for-like basis, climbing to EUR21.04bn (US$23.89bn), the group revealed this morning (20 February). Danone said gains were driven by easy comparisons at its early life nutrition business, which was hit by a recall in China linked to Fonterra's botulism false-alarm last year. Early life LFL sales increased 6.1%. The company's dairy arm saw LFL sales grow by just 1.5%. Reported sales were down 0.7% however with currency exchange trimming 5.5% off the top line.
Trading operating income totalled EUR2.66bn, a decline of 5.2% on a reported basis but an increase of 3.7% on like-for-like. Danone's like-for-like trading operating margin fell 12 basis points in the year or 60 basis points on a reported basis.
Underlying net income stood at EUR1.56bn, down 4.6% year-on-year. However, Danone stressed, comparable net income increased 3.6%.
CEO Emmanuel Faber said: "Our 2014 achievements laid a solid foundation for Danone to build on in 2015 and the years ahead. As announced, we tipped the equation towards profitable growth as of the second half… In the course of the year, we also made significant progress in many markets, especially in Europe where a combined focus on updating our product lines and raising our competitive edge are beginning to pay off. We also continued to build our portfolio and expand in high-growth markets, particularly in Asia and Africa."
However, he stressed trading conditions are not expected to ease in 2015. "Looking ahead, we anticipate an ongoing difficult and unstable environment," Faber revealed. The company said it would focus on "winning market share" in the year. Organic sales are expected to rise by 4-5% with "slight growth in trading operating margin".
Danone shares fell 1.32% in early trade in Paris today.
Click here for coverage of Danone's conference call on its results today. Can the company get its dairy business growing again?