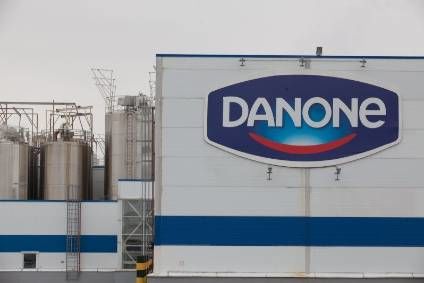 Danone has announced a target for zero net carbon emissions "within its full scope", which also includes agriculture.
The Activia maker said the "long-term" commitment covered its "direct and shared scope of responsibility". In other words, carbon emissions from manufacturing, packaging and logistics but also areas where others contribute, including in agriculture. Danone said areas where it "shares responsibility" account for 65% of its emissions.
Danone said the pledge means it would be covering "the full scope of its carbon footprint", which the company revealed amounts to 18.8 million tons.
The French food giant did not provide a specific date by which it expects to achieve zero net carbon emissions, although the policy estimates that point could be reached around 2050.
However, Danone said it wanted to cut emissions by 50% between 2015 and 2030. The company also commited to starting to reduce emissions in absolute terms before 2025. The group believes it will reach "peak full scope" emissions between 2020 and 2025.
"To help find solutions to this game-changing challenge, we must take global view of the food chain," Pascal De Petrini, executive vice president for strategic resource cycles at Danone, said. "By viewing carbon as a cycle, we can not only reduce our emissions, but also offer solutions to promote carbon sequestration in soils, forests and mangroves through agricultural practices and ecosystem restoration activities that reduce greenhouse gas emissions. This approach demands continuous improvement to spark innovation and spread best practices. With hands-on pragmatism and small-scale experimentation, we can scale up tools to solve the complex climate change challenges within the food chain."
Danone outlined "five priorities" to help it meet the targets. One is to reduce its "full scope" carbon emissions. However, the list also includes developing "carbon-positive" initiatives to capture carbon in natural ecosystems.
The group said it would work to "fully eliminate deforestation impacts" from its supply chain by 2020, "build resilience" into its food and water cycles and offer "preferred and healthier diet options produced in a resource-efficient way, using sustainably-sourced ingredients".
In the full document to outline its new policy, Danone underlined why it sees a link between diet and the environment. In a section headed "a healthier diet is part of the solution to reduce greenhouse gas emissions", the Cow & Gate maker wrote: "The way we produce and consume food has a major impact on our ecological footprint. Industrialized food systems have become a major driver of climate change, requiring huge amounts of energy to produce fertilizers, and to process, package, transport and preserve food. We believe that major changes are required in the way food is grown and distributed, as well as new approaches to meet the challenge of increasing products' nutritional benefits whilst reducing their impact on natural resources."