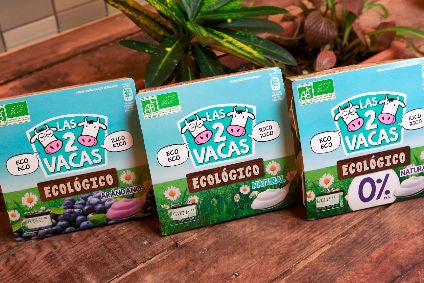 Shares in Danone climbed this morning (23 February) after the Activia maker reported a solid last three months of 2015 and issued forecasts for this year that were welcomed by analysts.
Danone reported a 3.6% rise in fourth-quarter like-for-like sales, slower growth than seen earlier in 2015 but within analyst expectations. Over 2015 as a whole, Danone saw its like-for-like sales increase 4.6%.
This year, Danone expects like-for-like sales to grow by 3-5%, suggesting the possibility grow could slow in 2016 but the forecast did not dampen the company's stock, which was up 2.23% at EUR62.27 at 09:23 CET.
The Cow & Gate owner's trading operating margin – another closely watched metric – stood at 12.91% in 2015, up 32 basis points on a reported basis or 17 basis points on a like-for-like basis. For 2016, Danone expects a "solid improvement" in its trading operating margin.
Andrew Wood, an analyst for Sanford Bernstein, said: "Overall, the reporting was nicely solid, slightly ahead of expectations, fairly straightforward, surprise-free and fully in-line with FY guidance, which is always positive for a company like Danone trying to re-build its reporting reputation. FY 2016 guidance was slightly broader than we expected, but generally positive."
In 2015, Danone's reported sales grew 4.4% to EUR22.41bn. Revenues from each of its operating divisions increased year-on-year, though volumes from fresh dairy fell 3%. Danone did see its fresh dairy volume trends improve in the fourth quarter, when they dipped 0.6%.
Trading operating income was up 5.7% at EUR2.89bn. Net income increased 7.4% to EUR1.28bn.
CEO Emmanuel Faber said: "Our choices in 2015 delivered these solid results, which came from the combination of our businesses in both developed and emerging markets across all four of our categories. In 2016, in a global context that remains volatile, Danone will continue to invest behind its brands and will mark a further important step to develop a balanced model of strong, profitable and sustainable growth."
Selected Danone results by division
Fresh dairy products
Q4 sales hit EUR2.68bn, up 2.6% on a like-for-like basis. Volumes down 0.6%
2015 sales at EUR11.06bn, 0.6% on LFL basis. Volumes 3% lower
Full-year trading operating margin up 24 basis points at 9.95%
Early life nutrition
Q4 sales rise 6% to EUR1.33bn. LFL sales up 3.6%. Volumes 3.6% higher
Annual sales reach EUR4.99bn, up 9.8% on LFL basis. Volumes up 5.1%
2015 trading operating margin up 142 basis points at 19.32%