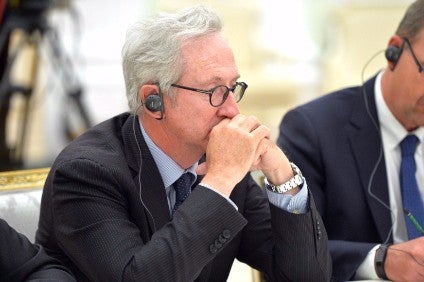 Danone has refused to be drawn on a report in France suggesting chairman – and once long-time CEO – Franck Riboud is to leave the business.
The Le Monde newspaper said today (17 October) Riboud, who was Danone CEO between 1996 and 2014 and also chairman for the last six years of that period, is to depart from the Activia-to-Alpro maker.
Emmanuel Faber, who was promoted in October 2014 from deputy CEO to succeed Riboud as chief executive, is set to take on the additional role of chairman, Le Monde claimed. A board meeting is due to take place tomorrow to endorse the moves, it added.
Danone's 2016 annual report, issued in March, said Riboud's term as a director was set to expire in 2019.
Approached by just-food today, Danone said it "did not comment on or confirm any of the information" in the newspaper report.
Riboud holds what Danone has called "enhanced powers" in his role as chairman. When in the autumn of 2014 Riboud left the role of Danone CEO but stayed on as chairman, it marked the division of the two roles after six years of the Frenchman holding the two positions. The company said Riboud wanted "to concentrate on the key strategic issues facing Danone in the medium and long term and to lay the groundwork for a smooth succession".
However, the move saw Danone's board vote to set up a new "strategy committee", on which the new CEO Faber would sit but which would be headed by Riboud.
The board also decided to expand the duties held by a chairman at Danone in order "to ensure that Danone continues to benefit from Franck Riboud's insights and in-depth knowledge of its markets, corporate culture and business environment". That move, Danone said at the time, would "leave the powers of the board of directors and the CEO unchanged, but will enable the chairman and the CEO to work in concertation on major issues in Danone's corporate life".
In Danone's 2016 annual report, it stated the "transition period" of Riboud holding the extra responsibilities "should be completed in 2017, after which
time [he] will carry out his duties by exercising the traditional rights of a board chairman".