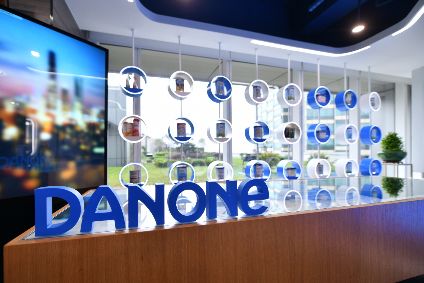 Danone today (23 November) set out how the French group plans to adapt to how it sees the post-Covid trading environment taking shape, with a target of EUR1bn (US$1.19bn) in cost savings, including removing up to 2,000 jobs.
The yogurt and baby-food maker said it wants to build a "local-first" organisation, with CEO Emmanuel Faber insisting the group needed to "reinvent" itself in the wake of the pandemic.
By 2023, the Activia and Alpro maker wants to generate EUR1bn in cost savings, including through a 20% reduction in its overhead expenses.
The announcement, ahead of Danone's investor day later today, comes a month after the company outlined plans to restructure its management – with the French dairy giant's CFO deciding to leave – and to review its portfolio to adapt to the challenges created by the virus.
Faber said today Danone would become a "local-first" organisation in a bid to become more agile and better serve customers.
"Our business entities in countries will not anymore be dependent on a specific global category organisation but will be unified in one, single, local business unit playing with strength and efficiency on the whole range of local specificities to win in our capability to serve our clients and consumers and therefore to grow," Faber said.
"By giving power back to countries, we will regain agility, by shortening our decision-making processes: for instance by having only two decision-making levels on capital expenditure where there are five today or two levels to manage a brand like Activia where there are four today. By doing this, we will profoundly change the nature of the role of our headquarters because central functions will have a new role essential to serving the competitiveness of our countries."
As a result, Danone plans to look into whether to relocate its global headquarters in Paris "closer to our French business headquarters", Faber said, adding: "This simplification and evolution in the role of our common functions will translate in reductions of around 1,500 to 2,000 positions in local and global headquarters, with up to 25% of current job positions for our global headquarters."
Danone said last month the company's operations would be organised under two "macro regions" of North America and International. The Actimel maker's International unit will, the company said today, be organised under five further zones, with their presidents to become part of the group's executive committee.
We need to reinvent @Danone. That's why we are announcing today a new organization. Local is a way to regain control over our food. The decisions we are announcing today will enable us to return very quickly to our profitable growth equation. https://t.co/dvQFS3P9tp

— Emmanuel Faber (@EmmanuelFaber) November 23, 2020
Part of the EUR1bn Danone expects to save will be used "in support of our growth and our brands but also to re-enforce our margins", Danone said. The company's profitability has been a talking point among investors in recent months. Faber was asked by analysts last month if Danone had had any plans to look at further cost savings given its previous cost-savings programme had come to an end after running from 2018 and 2020 –  and exceeding its target.
Danone's EUR1bn target on costs includes a bid to reduce its "cost of goods" by EUR300m and cut its general and administrative expenses by EUR700m. The company said it expects to incur one-off costs from the restructuring of around EUR1.4bn for the 2021-2023 period.
The company confirmed its guidance for its 2020 recurring operating margin of 14%. Danone also reiterated its "mid-term ambition" of achieving 3-5% "profitable like-for-like revenue growth".
Taking into account the new cost savings plan announced today, Danone is now targeting its mid-term recurring operating margin to "reach mid-to-high teen levels, with the first milestone to be above 15% in 2022".
Jefferies analyst Marin Deboo said: "While the implied retention rate on the savings is an industry standard 25% or so, the credibility of the new targets will be questioned given Danone's failure to deliver its previous margin target of 'greater than 16%' in 2020. But this feels like a step forward to us in the light of the low valuation and cautious consensus."