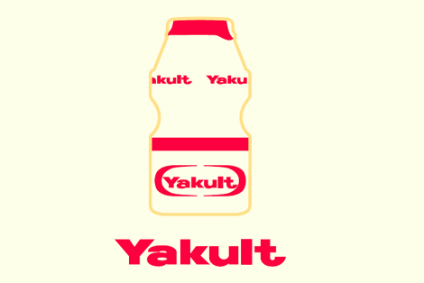 French dairy giant Danone plans to reduce its 21.29% stake in Japanese probiotics drink firm Yakult Honsha Co. to 7% as part of its continued "focus on disciplined capital allocation".
In a statement, Danone said the divestiture of the 14% holding will be instigated by Yakult through a market transaction beginning today (14 February) and is set to be completed in March.
Yakult will also launch a JPY36bn (US$335.3m) share buyback programme in which the French company will participate.
Danone said it will remain Yakult's largest shareholder and will continue to be represented on its board of directors.
Bernstein analyst Andrew Wood estimates the value of the 14% stake at around JPY195bn based on yesterday's closing prices. The stock was up 1% at EUR64.53 (US$79.68) around 11:17am in Paris.
Jefferies analyst Martin Deboo said it views the stake sale as "modestly EPS dilutive but also modestly de-leveraging" for Danone and expects a positive reaction from the market.
Using a rough calculation, Deboo said the aggregate transaction – sell-down and buyback participation – will be around 1% EPS dilutive for Danone but would reduce its net debt from the "current 3.5x (pro-forma FY18E) to 3.3x".
On a separate matter, Danone announced it has signed an "amended" memorandum of understanding with Yakult confirming its commitment to a "long-term strategic relationship and shared vision to promote probiotics as part of a balanced diet". The collaboration between the two companies dates back to 2004.
The statement added: "Danone and Yakult will intensify their joint efforts to promote probiotics through the jointly created Global Probiotics Council. The parties also intend to expand the Ishoku Dogen program which aims at deepening the understanding of the link between diet and health.
"From a commercial perspective, the partners will study the feasibility of new collaboration projects such as the distribution of Yakult's products by Danone in European markets where the brand is not currently engaged in substantial business, with Spain as an initial test market."
The paring of Danone's stake in Yakult adds to another recent divestiture. In July, it announced it was selling US organic dairy business Stonyfield to French dairy giant Lactalis for US$875.
However, Danone struck a deal in 2016 to acquire US-based food and beverage company WhiteWave Foods for $12.5bn.
Jefferies' Deboo said Danone has been "under pressure around [its] capital allocation discipline" following its WhiteWave acquisition and remains unenthusiastic about "associate relationships in general".
"Judged against those criteria this feels like a sensible and positive move to us," he said. "Danone will reduce net debt and simplify its business somewhat, but retain the benefits of a useful strategic collaboration in its core category."
Alain Oberhuber, a consumer analyst at MainFirst Schweiz, said the decision may have been driven by pressure from activist investor Corvex Management, the US-based fund that reportedly bought a shareholding in Danone last year.
"We expect that there was slight pressure from the activist Corvex, which could be the reason for this move as strategically it made no sense any more for Danone to have such a large minority holding," he said.
"We think that the reduction of the stake is favourable as timing is good, will bring Danone more financial flexibility and will make Danone's management more focused to its core business. We expect no changes of consensus earnings estimates, but the move is favourable."
Today's announcement comes before Danone reports its 2017 results on Friday. Sales edged up 2.9% on a like-for-like basis in 2016 to EUR21.9bn, while net profits surged 35% to EUR1.72bn. It booked earnings per share of EUR2.79.
In its 2016 annual report, Danone said it will "create the best conditions to reinforce its capacity to capture growth opportunities and tackle costs for a more efficient and effective growth model".
Bernstein's Wood said assuming Danone uses the proceeds to reduce debt, his company forecasts the French firm's net debt will fall from EUR15bn to EUR13.5bn in 2018, and the net debt to EBITDA ratio will drop from 3 times to 2.7 times.