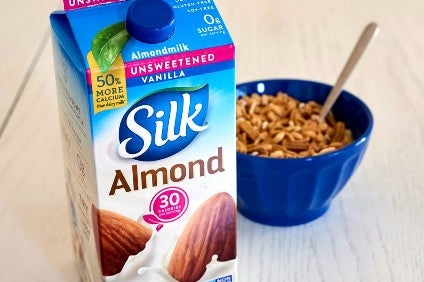 Danone plans to invest as much as US$60m to expand its plant-based beverage facility in Rockingham County in the US state of Virginia.
The French group will add new production capacity at the site in the town of Mount Crawford and extend its warehouse, according to a statement from the Virginia state government. The investment is expected to create 49 jobs, adding to more than 500 existing employees.
Danone will receive a US$700,000 performance-based grant from the Virginia Investment Partnership program to assist the county with the project. The company will also be eligible to receive sales and use tax exemptions on manufacturing equipment.
The company counts Silk, So Delicious, Alpro and Vega among its brands. It also offers non-soy milk alternatives. Danone attained the portfolio and the Rockingham County site when it acquired US business WhiteWave Foods earlier this year.
Danone chief executive Emmanuel Faber said earlier in October when releasing third-quarter results that the "integration of WhiteWave is on track and starting to deliver results". The French parent's reported sales rose 16.6% to EUR6.45bn (US$7.6bn) in the period, including the base effect of the consolidation of the US unit, it said.
Dan Poland, chief supply chain officer for Danone's newly-created US arm, DanoneWave, said of the site expansion: "Our success as a business is integrally linked to the ecosystem in which we operate and we are grateful to Virginia, the governor, his extended team, and everyone in Rockingham County for being so encouraging and for providing such a productive environment. With the support of our employees, business partners and the community at large, including the commonwealth, we are able to provide better-for-you food and beverage choices."
Virginia Governor Terry McAuliffe added: "We are thrilled to carry on Virginia's 30-year corporate partnership with legacy WhiteWave Foods to DanoneWave, and look forward to the company's next chapter in Rockingham County as it expands its product portfolio."