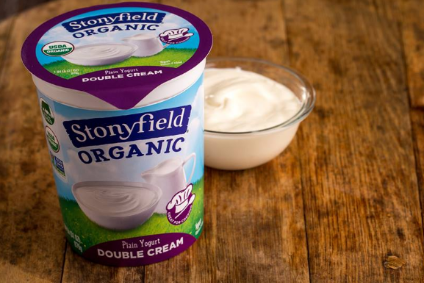 Danone is to sell US organic dairy unit Stonyfield as part of a deal with local regulators on the French giant's planned acquisition of US food and beverage group WhiteWave Foods.
Last summer, Danone announced it had struck a deal to buy Alpro and Silk owner WhiteWave for US$12.5bn.
In December, Danone sold a unit in Belgium to secure EU approval for its acquisition of WhiteWave. Today, the company said it would offload Stonyfield in an agreement with the US Department of Justice, which had also been scrutinising the impact of the purchase of WhiteWave.
Plans for the US$12.5bn takeover of WhiteWave Foods by French dairy giant Danone have reached a "major milestone", with the approval of the deal in principle by the Antitrust Division of the US Department of Justice (JOJ), the companies announced today (31 March).
Danone said it would sell Stonyfield, "in the months following the closing of the acquisition of WhiteWave" to "facilitate the prompt closing" of the deal.
Whitevave said it now expects the deal to close "shortly", but said "there can be no assurance regarding timing of completion of regulatory processes".
Danone CEO Emmanuel Faber said: "As part of the agreement in principle with the DOJ, we made the strategic decision to divest Stonyfield as it allows us to take a major step towards completing the WhiteWave transaction expeditiously. This is a good outcome as it addresses the DOJ's concerns and enables Danone to shortly begin to capture the benefits of the combination, and the value creation announced last July."
Faber said: "We are committed to finding the right partner to support Stonyfield's growth journey in the future. In doing so we will attract more competition and capital into the US organic segment, creating an opportunity for it to grow even faster. Through the WhiteWave transaction, Danone will strengthen and expand its position in resilient growth markets. Danone will notably double the size of its North America business to more than $6bn in turnover, allowing the company to become a top 15 food and beverage company in the US and the number one in refrigerated dairy – excluding cheese – in this key strategic geography. The transaction also offers the potential to broaden Danone's reach across geographies through new high growth categories in the future."
As part of the announcement, Danone reaffirmed it expected to see "significant run-rate EBIT synergies" from the purchase of WhiteWave of $300m by 2020. It expects to see a 0.5-1% improvement to its annual like-for-like sales and "solid EPS accretion from 2017 and above 10% based on run-rate synergies".