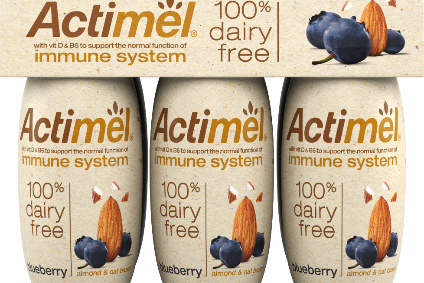 Danone is facing calls to make further changes to the way the company is run from London-based investor Bluebell Capital Partners.
According to a report by French business publication Challenges, Bluebell, which bought an undisclosed stake in Danone at the end of 2020, has written to the company's management asking for governance changes.
Specifically, it wants to see the separation of the functions of chairman and chief executive officer and is calling for the replacement of CEO Emmanuel Faber, who was promoted to the top job in 2014.
In a statement sent to just-food in response to news stories about Bluebell's call, Danone said: "The leadership team of the company is highly focused on delivering long-term sustainable value for our shareholders. We value constructive dialogue with all our shareholders."
According to the Challenges article, Bluebell's letter to Actimel maker Danone is a reaction to what it sees as poor performance by the company.
Danone has already announced a number of structural changes as part of a cost-cutting exercise in order to reboot profit margins.
In November, CEO Faber revealed a new locally-focused corporate structure under six separate zones each with its own leadership team to promote, among other things, product development that fits with local trends and demands. The company also said it planned to cut up to 2,000 jobs and eliminate 20% of its SKUs.
In December, Danone announced it was creating a strategy transformation committee to sit beside three existing board committees that oversee audit functions, governance and engagement. It also revealed Cécile Cabanis, the former CFO who stepped down in October, had been appointed vice chair of the board in a non-executive capacity.
In its statement sent to just-food today, Danone said: "This new plan reinvents Danone as a company, as all of us are reinventing our own ways of living, working and consuming. The first stage of this plan includes an ambitious adaptation plan to return Danone to profitable growth in less than 12 months, as soon as H2 2021, and for our recurring operating margin to return to its pre-Covid levels at more than 15% by 2022.
"The Danone leadership team looks forward to sharing additional elements of the plan in subsequent investor updates, with the next event scheduled for March 25th where the company will focus on how Danone will accelerate profitable sales growth towards its mid-term objectives."
Analysts who follow Danone have responded to Bluebell's call for change.
Martin Deboo at Jefferies said he broadly agrees with Bluebell's analysis, quoted in the UK's Financial Times newspaper, that Danone's current management have "a poor operational record and [have made] questionable capital-allocation choices".
Bruno Monteyne at Bernstein warned about difficulties to come at Danone despite the changes announced at the end of last year.
"It may be years of pain before investors will know whether that new plan is any better than the old one," he said.
just-food has contacted Bluebell Capital Partners seeking further information.
In 2017, US-based fund Corvex Management reportedly emerged as a shareholder in Danone, with the activist investor said at the time to believe the Cow & Gate baby-food maker was undervalued.