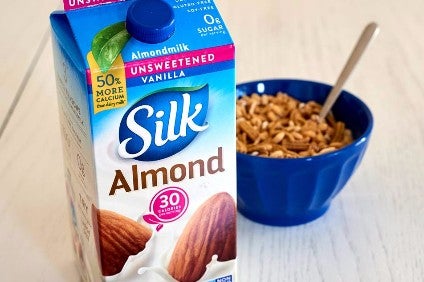 Danone's North American business has become a B Corp, the latest in the French giant's subsidiaries to earn the certification.
A B Corp-certified business takes into account stakeholders in general, rather than holding as pre-eminent the return to its shareholders.
The Activia and Alpro owner today (12 April) announced its North American unit – formerly known as DanoneWave and which represents 30% of the company – had qualified for the certification, joining subsidiaries including Danone Dairy UK.
Emmanuel Faber, Danone's chairman and CEO, said the move was the latest step in the company's "progress towards global B Corp certification".
He added: "People rightly expect large organizations like Danone to use their scale for positive impact. We do not take this responsibility lightly. B Corp certification is one measure that provides consumers, investors and other stakeholders with a robust framework to assess whether the company they support is having a positive impact on society and the planet."
Launched in the US in 2007, the B Corp certification is taking in more food companies, predominantly SMEs, although a growing number of subsidiaries of larger corporations have also qualified.
"A successful B Corp movement needs an inclusive community of companies of all sizes: from Fortune 500 companies to small sole proprietors. Today's announcement shows how even complex multinational corporations can commit to balancing meaningful change with shareholder expectations," Bart Houlahan, co-founder of B Lab, the US NGO that set up the certification.
The certification of Danone North America comes a year after Danone reconstituted the subsidiary's predecessor DanoneWave as a public benefit corporation, a new legal entity being created in many US states which balances shareholders' financial interests with benefits to the environment and society. It then committed DanoneWave – formed when Danone acquired US group WhiteWave Foods – to becoming B Corp-certified by 2020.
Interview: "B Corp is very relevant for food industry today" – Danone CEO Faber on French giant's work on the certification