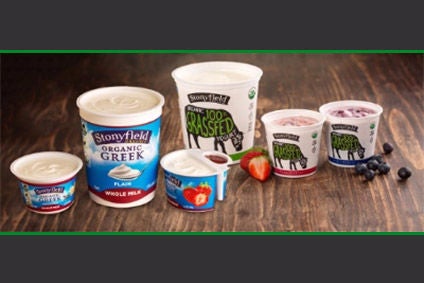 Danone-owned US organic dairy business Stonyfield Organic has thrown its weight behind calls for the mandatory labelling of products containing GMOs in the country.
The so-called DARK Act, a proposal introduced by Senator Pat Roberts that would water down state legislation over mandatory GMO labels through voluntary initiatives is likely to hit the Senate floor as early as next week. Speaking to just-food at the Expo West trade show in California, a Stonyfield spokesperson said the company is firmly behind the case for mandatory labelling. "We absolutely back mandatory GMO labelling. We have donated to state GMO funds. We are very vocal about it."
Parent group Danone has not publicly supported mandatory GMO labelling. However, the Stonyfield spokesperson pointed out that neither has the French group opposed such moves. "While Danone haven't come out in support of mandatory labelling they also haven't donated to campaigns trying to block it. That is not something all the other organic brands owned by big companies can say," she stressed.
Stonyfield is assessing whether to get third-party accreditation to confirm the GMO-free status of its products in addition to its existing organic certification, the spokesperson revealed.
While organic products are GMO-free, the spokesperson said Stonyfield is mulling whether to take the extra step of obtaining GMO-free certification in order to combat consumer confusion over the issue.
"All our product is organic, which means its free from GMOs but we are potentially going to verify separately with the non-GMO project. We say it on our cups anyway: GMO-free, hormone free. We have always tried to communicate that. But consumers really care about GMO right now and they don't always make the link between organic and GMO-free."
Stonyfield is well-positioned to capitalise on growing demand for more sustainable dairy products produced with farming techniques that improve animal welfare, the spokesperson continued. In particular, the group has witnessed a leap in demand for grass-fed dairy.
"There is a huge increase in interest for grass-fed. It is growing six times faster than the rest of the cabinet," the spokesperson observed. "Our product is 100% grass-fed. Sometimes, when products say grass-fed on the label it also uses other sources. Our product is third-party verified. We think this is really important because it shows we deliver something consumers can trust."
The company is also looking at healthy-eating trends. In particular for its yoghurt products, the high sugar content is an issue Stonyfield is moving to address. "Sugar is a big issue right now. We offer a plain flavour in every variety we make. But [sugar] is always on our minds," the spokesperson said
The spokesperson said the company was "perhaps" working on product reformulation to reduce its use of sugar but added it is "not something I can comment on right now".