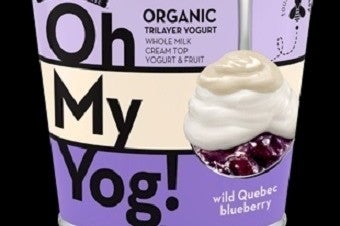 Danone's US organic yoghurt unit Stonyfield is launching a layered yoghurt product, Oh My Yog!, in the market.
The product consists of three layers: fruit, honey-infused yoghurt and cream.
"Whole milk is part of the growing food trend of healthy fat making a comeback. Not only is it incredibly delicious – you really can't beat a layer of cream on top of your yoghurt – it's also recognised as a more wholesome kind of real food," shared Ben Angeloni, VP of marketing for Stonyfield. "We have fans ask us for full fat yoghurt every single day, and we're excited to deliver something exceptional with Oh My Yog!"
The company said the line is available in select retailers nationwide. The range consists of six 6-oz varieties for the suggested retail price of US$1.59, including Wild Quebec Blueberry, Pacific Coast Strawberry and Orange Cranberry.