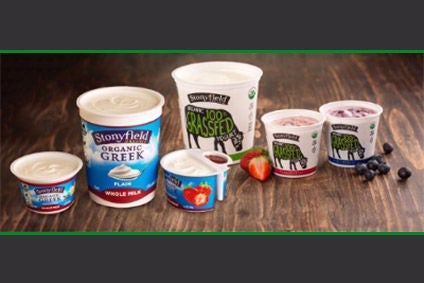 Danone's US organic dairy business Stonyfield Farms has announced a "comprehensive plan" to reduce added sugar across its yogurt portfolio.
The company said it has developed a new formula that "reduces tartness and balances the sweetness", enabling the company to reduce sugar "without sacrificing taste".
The company said its Stonyfield YoKids is already available in stores with 40% less sugar than "the leading low-fat kids' yogurt". Danone did not name the competitor.
Stonyfield is working to reduce sugar in all of its yogurt offerings this year and it plans to offer unsweetened options in its Stonyfield YoBaby, Stonyfield Greek and Stonyfield core lines. The company said by the end of autumn this year its smooth and creamy varieties and low fat smoothies will have 25% less sugar than previous recipes.
"The commitment to reducing sugar across the product portfolio was born from Stonyfield's mission to continually provide healthier food both for our consumers and the planet," said Nichole Cirillo, Stonyfield's newly-appointed mission director. "We are achieving a lower amount of added sugar in all Stonyfield yogurt without compromising taste or organic standards and are working towards purchasing 25% less sugar as a company this year."
Stonyfield yogurts are made with certified organic ingredients – with no artificial flavours or hormones, no preservatives, no toxic persistent pesticides and no GMOs.