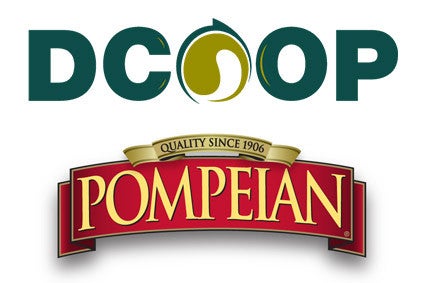 Spanish olive oil co-operative Dcoop and US distributor Pompeian Group are merging their businesses in a more the companies claimed will create a "global leader" in the olive oil sector.
Dcoop, the world's largest olive grower, will exchange shares and transfer assets with Pompeian via its subsidiary Mercaóleo. The deal brings together DCOOP's access to raw materials, production and bottling facilities with Pompeian's presence in the US, manufacturing capacity and brand recognition.
Antonio Luque, Dcoop's CEO, explained: "Pompeian Group is the most notable brand of olive oil in the United States and we are delighted to work together to ensure that the American table has consistent, quality olive oil. This partnership is the first step in building a leading olive oil enterprise that will provide consumers with full transparency from farm to plate."
The family-owned Pompeian owns manufacturing plants on both the east and west coast as well as an olive grove in California.
"We are excited to work side by side with the Dcoop Group on this partnership to form a uniquely integrated group," said David Bensadoun, CEO of Pompeian. "Pompeian Group and the Dcoop Group share the same values and passion to work directly with family farmers to provide the highest quality olive oil in the world. The agreement will allow Pompeian Group to continue sourcing and producing the finest olive oil for US consumers all year round."