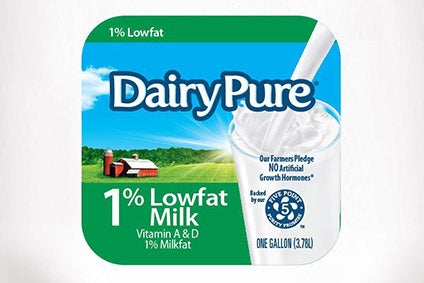 US dairy firm Dean Foods has booked increased profits for the first quarter of the year despite a fall in sales on the back of lower volumes sold.
The group reported a net profit of US$39.2m up from a loss in the same period last year of $73.7m stemming from facility closure and reorganisation costs as well as a loss on early retirement of long-term debt.
On an adjusted basis to exclude the effect of one-off items, net income rose to $41.8m from $22.3m.
An operating profit was also made in the quarter of $78.5m from an operating loss a year earlier of $59.2m.
On an adjusted basis, operating income rose to $83.1m from $51.6m in the first quarter of 2015.
However, net sales for the three months to 31 March fell to $1.8bn from $2.1bn. Total volume across all products was 641 million gallons for the first quarter of 2016, a 3.2% decline compared to the first quarter of 2015.
Nevertheless, CEO Gregg Tanner praised the group's performance. "Our Q1 performance marks a strong start to 2016. Solid execution across all functions led to continued improvement in our financial and operational performance from the fourth quarter to the first quarter. We continue to execute our agenda at high levels across the entire team."
Earlier today Dean Foods announced the acquisition of Friendly's Ice Cream's manufacturing and retail operations in a US$155m deal.