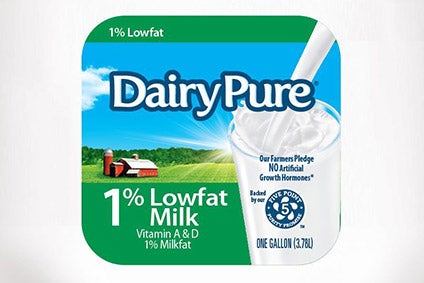 Dean Foods CEO Gregg Tanner today (9 November) insisted the "health" of the US dairy category is "probably as good as it has been" in his nine years at the US milk giant after the company reported its third-quarter results.
Tanner said lower-priced milk "in terms of both cost and prices at retail" was among the factors helping to support the category.
"We believe the strong health and wellness credentials in dairy products, and especially in fresh milk, resonate with consumers. All together, we believe this is a great business to be in and one that creates a compelling operating and financial opportunity," Tanner said.
In the three months to 30 September, Dean Foods reported a net income of US$20.2m, compared to a net loss of $16m a year earlier, when the company faced higher cost of goods sold and booked restructuring and impairment charges. Dean Foods' adjusted earnings per share stood at $0.30, higher than analyst estimates.
The company generated an operating income of $50.5m, versus an operating loss of $1.2m a year ago.
Net sales dropped 14.3% to $2.03bn. Raw milk costs were down 30% year-on-year, although Dean Foods said they had risen 4% from the second quarter of 2015.
Dean Foods said its total volumes across all products fell 2% during the quarter.
CFO Chris Bellairs said: "With volume performance coming in-line with our expectations and a continued focus on price realisation, we delivered a third consecutive quarter of year-over-year improvements to gross profit and operating income."