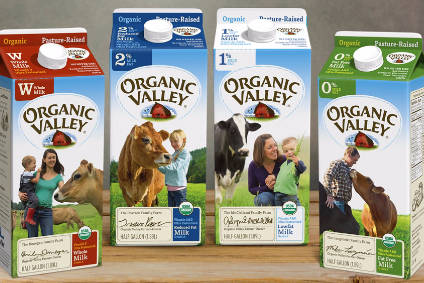 Dean Foods and CROPP have entered into a joint venture to expand distribution of the Organic Valley brand, which is owned by the the US farmer cooperative.
The 50-50 joint venture will serve as a "strategic growth platform" that will see Dean Foods provide processing and distribution services for CROPP's organic milk, which will be sold under the cooperative's existing Organic Valley brand.
The companies touted Dean Foods "extensive experience" in channels such as large format, dollar store and c-stores and Organic Valley's presence in the natural channel, emerging markets and speciality distributors.
"Adding Organic Valley to the current lineup of Dean Foods branded dairy products enables Dean Foods to offer retail customers the largest and most comprehensive dairy offering across multiple segments with national brands that consumers know and trust. It also allows us to further leverage our manufacturing and distribution network," said Gregg Tanner, CEO of Dean Foods.
"We believe the dynamic and growing Organic Valley brand of organic milk is the perfect complement to our own category-leading DairyPure and TruMoo brands and gives Dean Foods a strong position in the organic dairy segment."
George Siemon, CEO of Organic Valley, stressed the continuity of the product as well as the potential to increase distribution. "The same farmers will supply the same organic milk. But now more Organic Valley organic milk will be on more grocery shelves across the country," he suggested.
The joint venture expects to begin processing and shipping Organic Valley products in mid-to-late 2017.