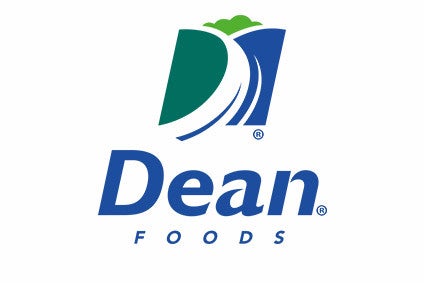 Struggling US dairy business Dean Foods has suspended dividend payments after booking its largest annual loss in seven years.
As the Dallas-based firm announced its year-end results today (27 February), the owner of the DairyPure milk and TruMoo brands also said it will not be issuing any financial guidance.
Just yesterday the company revealed it had launched a strategic review of the business, which could involve a potential sale, the continuation of its in-process transformation programme, the disposal of select assets, a joint venture, a "strategic business combination" or to seek private ownership.
The three-pronged transformation programme entails realising US$150m in savings by the end of the decade under an "enterprise-wide cost productivity plan", investment in the company's "core capabilities" and analysing its commercial aspirations.
In its earnings statement today, the company said: "As Dean Foods continues to focus on ways to accelerate its business transformation and simultaneously evaluate other strategic alternatives, the company is suspending financial guidance."
Under a consolidation drive, Dean Foods has been closing a number of plants, with seven shutting down in the third quarter alone.
Chief executive Ralph Scozzafava explained that despite making progress in the savings plan, the company incurred costs associated with the factory closures. He also said Dean Foods has refinanced its debt to "provide enhanced financial flexibility".
Dean Foods delivered a net loss of $327.4m in the 12 months to 31 December, compared to a $61.6m profit a year earlier. It was the biggest net loss since the $1.6bn booked in 2011, when it took a pre-tax, non-cash goodwill impairment of $2.1bn related to an analysis of its fresh milk operations, Fresh Dairy Direct.
Operating profit also slid into a loss of $315.2m, from a positive $87.6m result a year earlier. Meanwhile, net sales were pretty much flat at $7.75bn versus $7.79bn.
Dean Foods also reported it had $887m of debt at the end of last year, "net of $24m cash on hand".
Listed on the New York Stock Exchange, Dean Foods' shares were down by more than 16% mid-morning local time.
Scozzafava said the latest results reflect a loss of business from certain customers, along with inflation-related costs.
"While we made significant progress executing our enterprise-wide cost productivity plan, the cost savings were mitigated by incremental transitory costs associated with a recent comprehensive plant consolidation," the CEO wrote in the earnings commentary. "Despite these challenges, we continued to generate positive free cash flow from operations in 2018."
He continued: "We are taking important actions to reshape the company to be more agile and more competitive in the marketplace. In tandem, to enhance shareholder value and accelerate our business transformation, we have initiated a review of strategic alternatives. We have also successfully refinanced our credit facilities to provide enhanced financial flexibility. We are working diligently to transform our company and are confident we are taking the right steps to more effectively compete and win in 2019 and beyond."