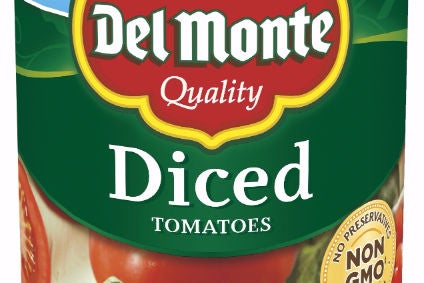 Del Monte Foods is to reduce the amount of bisphenol A it uses in the packaging of its products in the US.
Starting with the company's fresh pack production this year, which starts in May and runs through October, all Del Monte fruit and tomato products, as well as "nearly 100%" of vegetable products found under the Del Monte brand will be packaged in non-BPA linings.
Scott Butler, vice president for research and development, quality assurance and operation services at Del Monte, said the sauerkraut line under the company's namesake brand would still be packaged in a BPA lining. "We've been able to convert in almost all of our Del Monte vegetable SKUs, except for sauerkraut. There are various different packaging needs across our portfolio of products. While we are very pleased with our progress to transition to nearly 100% non-BPA packaging, as part of our quality journey, Del Monte will continue to investigate conversion opportunities for the remaining products," Butler said.
Butler said Del Monte, owned by Asian group Del Monte Pacific, is also working to reduce the amount of products packaged in BPA that are marketed under its other brands. "In addition to the Del Monte brand products, nearly 100% of products under the S&W and Contadina brands will also be converting to non-BPA packaging. Converting these product lines to non-BPA packaging is a major milestone for the company, and we will continue to look for opportunities to expand our quality journey across our other brands," he said.
Campbell Soup Co., yesterday (29 March) said it planned to remove all BPA from its packaging by mid-2017. ConAgra Foods announced a move to cans with non-BPA liners last July.
Additional reporting from Dean Best.
—
Until 31 March, You can get 15 months of access to just-food.com for the price of 12 – and, along with giving you three months for free, you will also receive two exclusive research reports. Full details can be found here.