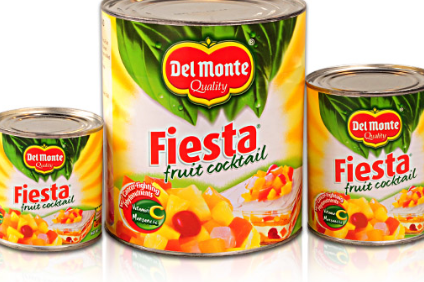 Del Monte Pacific Group said sales edged up 1% in the first quarter due to a "strong" performance of its S&W branded business in Asia and the Middle East, which offset lower sales in the US.
Revenue came in at US$474m in the three months ended 31 July from a year earlier, the Singapore and Philippines-listed company said in a statement today (7 September). Net profit turned to a positive US$740,000 from a US$7m loss in the year-earlier period.
The US subsidiary Del Monte Foods, DMFI, posted a 4% decline in sales to US$337m mainly due to reduced sales in private label and regional brands in foodservice as a result of competitive pricing. Sales of USDA fruit and pineapple concentrate were also impacted by lower pricing. The key retail segments of canned vegetable, canned fruit, and plastic fruit cup all grew sales and market share during the quarter, despite some category declines.
The company noted its first quarter tends to be its weakest due to seasonal factors. EBITDA climbed 26% to US$32m and operating profit was up 73% at US$14.8m. Still, earnings per share continued to deliver a loss, coming in at a negative 13 cents versus minus 36.
Del Monte Philippines, the group's second-largest subsidiary, booked sales of US$131m, up 14% from a year earlier. That was partly driven by increased consumption of packaged pineapple following an improvement in supply, along with higher sales of culinary products.
Sales of the S&W business, the fastest growing of DMPI in Asia and the Middle East, achieved double-digit growth, mainly due to strong sales of fresh pineapple on the back of improved supply and expansion into Turkey, a new market for packaged products.
The Europe segment, which includes unbranded products, rose 76% to US$7.8m due to higher packaged pineapple and beverage sales.