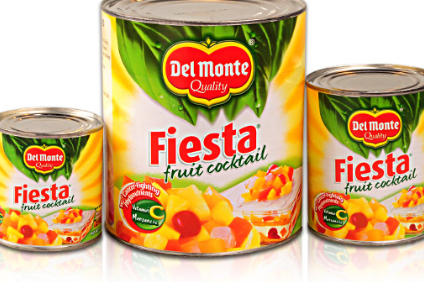 Del Monte Pacific has reported lower half-year sales and earnings, although the canned fruit-to-condiments supplier sought to underline it had seen an increase in underlying profits.
The company, listed in Singapore and the Philippines, booked 3.8% decline in turnover to US$1.1bn for the six months to the end of October.
First-half operating profit fell 31.3% to $61m. Net profit attributable to owners of the company stood at $11.4m, a drop of 69.1%.
However, Del Monte Pacific pointed to one-off items affecting its profitability. Excluding those factors, Del Monte Pacific said its net profit more than doubled to $15.1m.
Del Monte Pacific's second-quarter results followed similar trends, with turnover and reported profits down but net profit excluding one-off items higher.
Turnover fell 4.6% in the second quarter, which Del Monte Pacific blamed on lower sales in the US. The company cited factors for the fall in second-quarter sales in the US: lower inventory builds "as major retailers continued their thrust to optimise cash", weakness in the canned fruit industry, the impact of unsuccessful low-margin US Department of Agriculture bids during the previous financial year and lower sales of private-label and foodservice lines.
However, the company's sales in the Philippines rose at a "double-digit" rate. It also pointed to double-digit growth from its S&W brand in Asia and the Middle East.
"Our US business has been impacted by shifting consumer preferences, spending priorities and our performance in the foodservice sector. The demand for convenient packaged foods remains strong and our aim is to increase our market share by doubling our efforts on innovation and new product development," Del Monte Pacific managing director and CEO Joselito Campos Jr said.
"The excellent results in the Philippines and the S&W Asian markets, where our teams delivered on both sales expansion and productivity improvement resulting in cost reduction, underscore our strategy to tap into consumption-driven growth in Asia which is fuelled by an emerging middle class while, at the same time, seeking to create efficiencies throughout our operations."