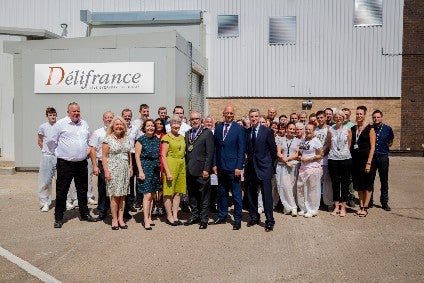 Délifrance, a bakery products supplier to foodservice outlets and retailers, is investing GBP4m (US$5.2m) in a new manufacturing facility in the UK city of Leicestershire as it seeks to double production of Viennoiserie continental pastries.
The more environmentally-friendly plant will sit alongside the company's existing site in Wigston, Leicestershire, situated in the Midlands.
Viennoiserie features two types of products: thaw & serve, and fresh pre-packed. Délifrance also makes croissants, pains au chocolat, pains aux raisins and chocolate twists.
"While thaw-and-serve products are more common-place across Europe, fresh pre-packed products are quite unique to the UK market," according to a statement from Délifrance.
This year marks the tenth anniversary of the opening of the first Viennoiserie production line.
Andrew Cole, the managing director for Délifrance's business in the UK, said: "Wigston has been a fantastic location for us for decades now. Being so central, it enables great connections with customers, and means we can deliver the freshest products each day – something vital for Viennoiserie."