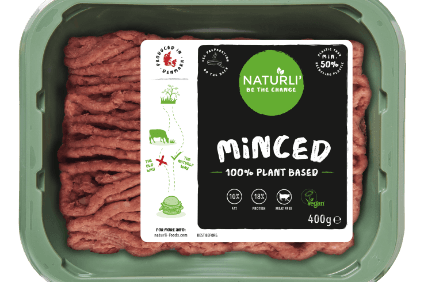 Naturli' Foods, the Denmark-based supplier of plant-based foods, has entered the UK meat-free market.
The company has secured a listing with Sainsbury's, which will be stocking Naturli' meat-free 'mince' and meat-free burger patties in 400 stores later this month.
Sainsbury's has decided to stock the Naturli' lines next to meat products, a move Henrik Lund, the Danish firm's CEO, believes will encourage meat eaters to try a plant-based alternative.
When Danish retailer Dansk Supermarked started stocking Naturli' products and placed them alongside conventional meat lines, it opened up the meat-free category to shoppers looking for meat products, Lund claimed.
"That totally changed the perspective – including for mainstream consumers," Lund said. "It takes plant-based to a new level and it opens up this new world.
"It is a food culture journey for mainstream consumers. They look down and they see something that they recognise because they are used to working with minced beef in their own kitchens. They think: 'That looks like something I know, it's made out of plants, but I can make the same meatballs as I did yesterday. I can do the lasagna. I can do the bolognese.' It takes out the mystery of plant-based."
Naturli' Foods, which has been owned by the Danish margarine Dragsbaek since 2010, has an exclusivity deal with Sainsbury's "for a limited period", Lund says, and is in talks with other UK retailers over future listings.
The company's entry into the UK meat-free market follows similar moves by other European meat-alternative businesses this year.
Asked why Naturli' believes it can succeed in what is a growing – but also competitive – market, Lund said: "We decided we wanted to take plant-based food solutions to another level. An example is this mince product. It's a component. It's not a pre-fried burger. It's a raw, built component that the consumer can take in the direction they want to in their own kitchen. We think that's very important. This is something completely different from many other products you see in this category."