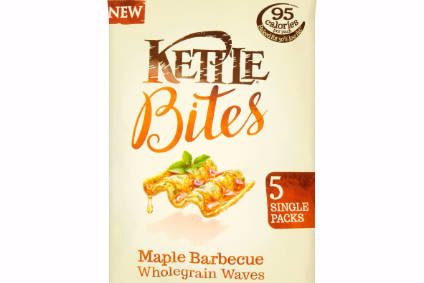 Diamond Foods is launching a range of wholegrain and lentil snacks in the UK under its Kettle brand.
Kettle Bites are marketed as a healthier option aimed at female consumers looking for "lighter, better-for-you snacks without compromising on taste". There are two sub-ranges: Lentil Curls and Wholegrain Waves.
The wholegrain and lentil snacks contain fewer calories and less fat than Kettle's existing snack products. They are available in four variants. Lentil Curls are available in Sweet Chilli and Mozzarella & Pesto and the Wholegrain Waves come in Maple Barbecue or Coconut, Lime & Chilli.
The Kettle Chips maker emphasised the Bites are "made from real food ingredients with absolutely no hidden nasties".
Andrew Slamin, marketing director for Kettle Foods, said: "Our consumer research has definitely confirmed that consumers are looking for snacks that offer great taste, but also a lighter eat, for everyday snacking. Our unique manufacturing capability has enabled the development of Kettle Bites, the perfect new snack for those who want something lighter when snacking but don't want to compromise at all on taste."
Kettle Bites multipacks are available at an RSP of GBP1.89 (US$2.86). Single formats of the Maple Barbecue Wholegrain Waves and Mozzarella & Pesto Lentil Curls have an RRP of GBP0.70.