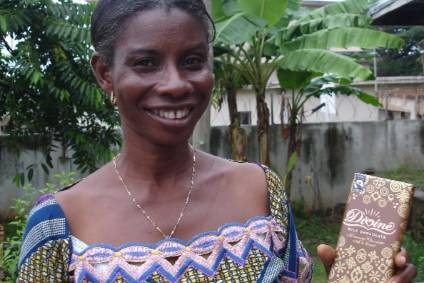 UK ethical chocolate maker Divine Chocolate, which is co-owned by Ghanaian farmers's co-operative Kuapa Kokoo, has reported a jump in annual profits despite lower sales.
Divine said net profit for the 12 months ending 30 June were GBP443,000 (US$550,000) compared to GBP319,000 in the previous year. Operating profit increased to GBP587,000 from GBP446,000 previously.
However, turnover for the period dipped to just over GBP12m from GBP12.6m previously.
Divine Chocolate chair Jamie Hartzell said profit was up "due in part to changes to the way in which foreign exchange contracts are reported".
"This means we can again pay a dividend to our co-owner Kuapa Kokoo, the largest cocoa farmers' co-operative in the world," Hartzell said. "This is in addition to the 882 tonnes of cocoa beans purchased from Africa, all with a Fairtrade premium paid to farmers of US$200 a tonne."
Hartzell said US sales were up 10% on the previous year, "helping to offset a fall in UK sales". "We secured distribution in several new national outlets, including Publix and CVS, and continued to show strong performance in existing outlets such as Whole Foods Market," he added.
The fall in UK sales was due to a drop in sales of own-label chocolate, while sales of the Divine brand grew by 6% across the group. Hartzell said. "Forward purchases of currency made prior to the EU (Brexit) referendum helped mitigate the fall in value of sterling against the euro, while at the same time the US dollar has strengthened against the euro, helping to insulate Divine from currency fluctuations."
In 2015, Divine announced the merger of its US and UK businesses to "strengthen" its structure and gain a "wider consumer reach".