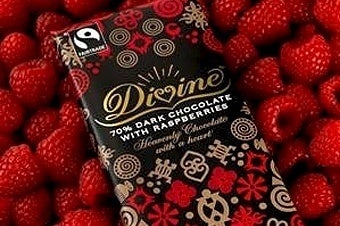 Divine Chocolate is merging its US and UK-based businesses in a bid to "strengthen" its structure and gain a "wider consumer reach".
Divine Chocolate Ltd, the UK-based arm, has acquired the 69% of Divine Chocolate Inc, the US business, that it did not already hold. This was achieved via a share swap that will see the former minority owners of Divine in the US take a minority stake in the enlarged group. Ghana-based farmer co-operative Kupa Kokoo – which established Divine in 1997 – will own 44% of the merged company.
Divine Chocolate generated a turnover of GBP8.3m (US$12.7) in the UK in the year to end-June, while sales in the US totaled US$6.1m.
"Having launched Divine in the USA nine years after the founding company launched in the UK, it has been very exciting to see it successfully navigate all the challenges in the USA market and mirror the success of Divine in the UK. We have seen a growing appetite around the world for business being done differently," Divine Chocolate MD Sophie Tranchell commented.
"The new structure strengthens the group, making us more resilient and giving us a wider consumer reach, and in doing so gives Divine more power to deliver our mission to fairly and sustainably remunerate smallholder cocoa farmers in West Africa, as well as empowering them to take their future into their own hands."
Tranchell will take over the role of CEO of the enlarged business.
Divine's finance director David Upton also noted that the merger of the businesses would enable to group to hedge its foreign exchange risks in the US and UK. "The potential in the US is really exciting, and we will be focussing on continuing to deliver strong profitable growth," he added.
Divine Chocolate also distributes across Scandinavia, Netherlands, France, Czech Republic, South Korea, Japan and Australia.