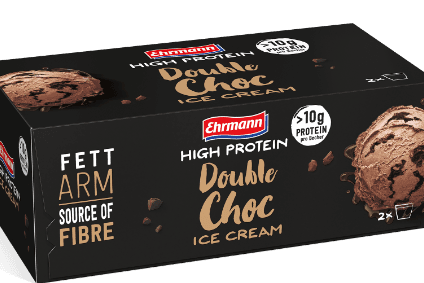 German dairy giant DMK is preparing its latest launch of a licensed ice-cream product after signing a deal with local yogurt major Ehrmann.
DMK, Germany's largest dairy business by annual sales, is to roll out a line of "high protein" ice creams under the Ehrmann brand in March.
The companies have decided to launch two flavours – double chocolate and vanilla salted caramel.
Sold in packs of two 180ml cups, the products are to be sold in Germany, with a recommended retail price of EUR2.99 (US$3.29).
"We are creating these products to fulfil the demand for products with high protein levels, which is increasing across all segments," DMK said in a statement.
The double chocolate variety contains 11g of protein and 12g of sugar cup, while the vanilla salted caramel ice cream has 12g of protein and 13g of sugar.
March will also DMK launch a frozen item marketed under the powdered-beverage brand Ahoj-Brause, owned by German confectioner Katjes Fassin. The co-op also plans to launch more ice-cream products under its flagship dairy brand Milram and under the spirits brand Baileys, owned by Diageo.
DMK has three plants manufacturing ice-cream products in Germany – in Waldfeucht-Haaren close to the Dutch border, further north in Everswinkel and in Prenzlau near the Polish border. The principal market in which DMK's ice-cream business operates is Germany, although an undisclosed amount of sales are generated elsewhere in Europe.