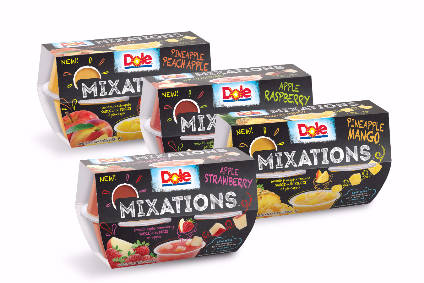 Dole Packaged Foods is launching Dole Mixations, snack ups that combine fruit sauce and chunks, in the US.
The company, owned by Japanese conglomerate Itochu Corp., has developed a line of four varieties: apple-strawberry sauce with diced apple, pineapple-mango sauce with pineapple pieces, peach-apple sauce with pineapple pieces and apple-raspberry sauce with diced apple.
The range features non-GMO fruit, no high fructose corn syrup and is free from artificial flavours and gluten.
"We are excited to diversify our Fruit Bowls platform with this innovation which offers a perfect combination of smooth fruit sauces and juicy chunks of real fruit," Brad Bartlett, president of Dole Packaged Foods' operations in North America and Europe, said. "Consumers are always looking for delicious, convenient ways to enjoy fruit. With four different flavours, Dole Mixations offer combinations that are ideal for kids and adult lunches, after-school snacks or a quick bite during the workday."
Dole Mixations have an RRP of US$2.79 for a pack of four cups.
Itochu acquired Dole Packaged Foods as part of its deal to buy Dole Food Co.'s global packaged food and Asian fresh businesses in 2012 for $1.7bn.