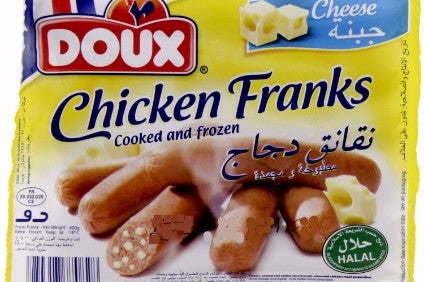 Loss-making French poultry group Doux is looking to forge partnerships with industrial groups and financial investors as it embarks on a four-year EUR100m (US$119.5m) investment programme to modernise production plants, which is part of a strategy to take its offerings 'upmarket.'
Chairman Christophe Couroussé outlined the plans in an interview with French media. His comments were confirmed to just-food by a spokesperson for the Brittany-based enterprise, which made losses of EUR36m last year and is expected to post similar losses in 2017.
As a solution to combating fierce competition from Brazilian rivals and reducing its production costs, Doux plans to sub-contract its bottom-of-the-range frozen chicken exports – shipped mainly to Middle East markets – which represents 80% of its total output, to a Ukrainian firm, thought to be MHP.
This will free up production at two of the group's plants in Brittany, with one specialising in Doux's new premium range of products, named Fitlife, made from poultry rich in Omega 3 which was launched recently in Saudi Arabia.
The other plant will be fitted out to make quality fresh halal chicken for European markets. Doux is seeking a partner for this activity and also one to help it achieve export growth in its profitable processed products division, notably in Africa, with provision made to double production capacity.
"We would have liked to have had these partnerships signed up by the end of this year but the negotiations are likely to run into 2018," Couroussé said.
However, weighing on Doux's future is the prospect of having to pay back EUR84m to the French authorities for the non-respect of EU regulations governing public subsidies. A court judgement of the case, which dates back to 2010, is expected in the first half of next year.