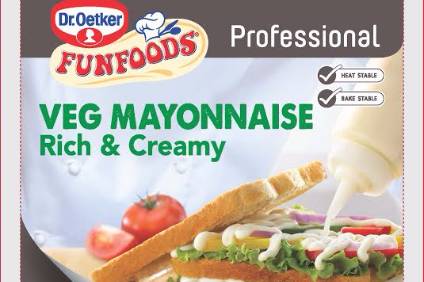 Germany-based food group Dr Oetker has unveiled plans to expand the reach of the group's foodservice products in India and increase domestic sales from the category.
The group said it aims to "double" the existing contribution from its foodservice business to its overall revenue in India over "the next couple of years". The foodservice channel accounts for a quarter of Dr Oetker's sales in the country.
Dr Oetker plans to market as an "expert solutions provider" for the increasingly-popular western food ingredients category in India's QSR and horeca sectors.
As part of this "repositioning", Oliver Mirza, the CEO and MD for Dr Oetker's business in India, said the group's range of 150 foodservice products in the country have been rebranded as Dr Oetker FunFoods Professional.
A spokesperson for the group's India operations told just-food: "Our aim over the years has been to build a strong retail division here and we are now establishing Dr Oetker FunFoods Professional as a strong foodservice vertical."
The spokesperson said after nine years of building the Dr Oetker brand in India the company sees "immense potential to strengthen our foodservice division in the country". "This is in line with our global aim of building both retail and foodservice verticals".
The spokesperson did not name regions Dr Oetker is targeting for the foodservice push but said the group "has a robust and focused sales approach and plans to penetrate untapped states and towns apart from educating our existing buyers about the versatility of our products".