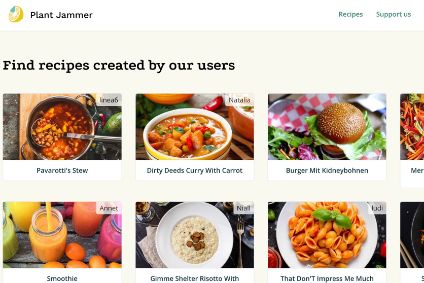 Dr. Oetker, the German food giant behind Ristorante pizza, has invested in Plant Jammer, a Danish start-up that has developed an AI-powered recipe assistant for home cooks.
Plant Jammer has attracted EUR4m (US$4.7m) of investment through a round that also included backing from Denmark's state investment fund, Væksfonden, as well as from the venture-capital arm of German domestic-appliance group Miele.
Set up in 2016 by former McKinsey & Co. executive Michael Haase, Plant Jammer's app helps users create plant-based recipes from ingredients already in their fridges or pantries, rather than home cooks picking a recipe and then having to buy the produce.
Plant Jammer has also developed an API that other businesses can use for any recipe information they have on their own apps or websites.
"Traditional sustainability is often supply-driven, where for example factories produce plant-based meats, electric cars, or more effective power plants. Plant Jammer takes a different approach: we provide the end consumers themselves the inspiration and tools they need to make a pro-active choice, to enable them to break habits and create a greener lifestyle – and to share their experience with their friends," Haase said.
The firm says more than 100,000 households in Denmark, Germany, the UK and the US use its app.
Eric-Alan Rapp, a partner in VF Venture – the direct investment arm of Vækstfonden, Denmark's sovereign investment fund – said Plant Jammer was looking to help consumers adopt plant-based and reduce food waste, which he described as "two of the largest and most important issues on the planet that we have to address in order to reach our global climate goals"
Rapp added: "Many people want to do this, but few people know how – or where to start."