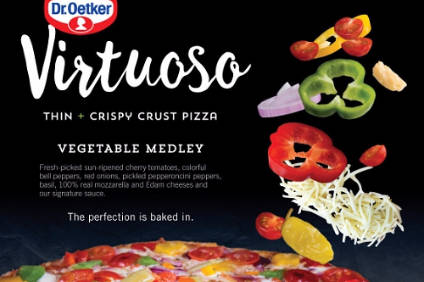 German food giant Dr Oetker has reported a "very respectable" performance for 2016 – a period that saw the company "make a number of strategically important moves for the future", despite "challenging conditions".
The Ristorante pizza owner booked a 1.6% increase in sales on a "nominal" basis to EUR2.41bn (US$2.6bn). On an adjusted basis, to take account of currency effects and acquisitions, as well as the impact of a "first-time application" of a German accounting directive, sales were up by 3%.
The privately-owned business did not provide figures for its profitability. However, the company said nominal growth "can be attributed above all to currency translation effects, in particular the depreciation of the pound sterling, the Mexican peso and the Turkish lira against the euro".
Companies based outside Germany accounted for 69.4% of total sales revenue in 2016 compared to 69.9% in the previous year.
Dr Oetker executive board chairman Richard Oetker said: "We focused our efforts on developing existing markets and tapping into new foreign markets. The overall positive performance was generated by both the first-time recognition of companies acquired in 2015 for the entire financial year and by organic growth."
The company said investment in 2016 amounted to EUR139m, compared to EUR117m in the year-ago period. Of the total, EUR53m was invested in Germany and the remainder in other markets.
"The main focus of these investments was on expanding international production locations," the company said, including completion of the first part of a new pizza production line in Poland and a new production line for gluten-free frozen pizza in Wittlich, Germany.