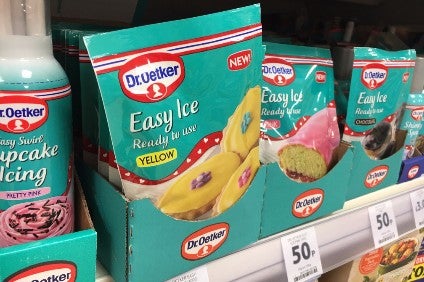 Dr Oetker, the Germany-based food group, has outlined changes to its executive board that will take effect from 1 November.
Dr Albert Christmann, the CFO of the wider Oetker Gruppe, will succeed Richard Oetker as the new chairman of Dr Oetker's executive board. Richard Oetker is to become chairman of the Dr Oetker advisory board, which supervises the management-focused executive board.
Christmann's move was first revealed in December but Dr Oetker had at that stage not determined when the switch would take place.
Christmann will have responsibility for areas such as corporate strategy and M&A.
Alexander Edelmann is to join the executive board and oversee functions including controlling, accounting and finance. He replaces Andreas Unruhe.
Rainer Lührs, the managing director for marketing, research and development at Dr Oetker, is also stepping down from the company's executive board. The 64-year-old is retiring after 40 years with the business.
Christmann will take on responsibility for marketing. Christian von Twickel, the executive board member in charge of areas including production, technology and logistics, will also be responsible for research and development.
The fourth member of the executive board remains Martin Reintjes, who is in charge of sales.