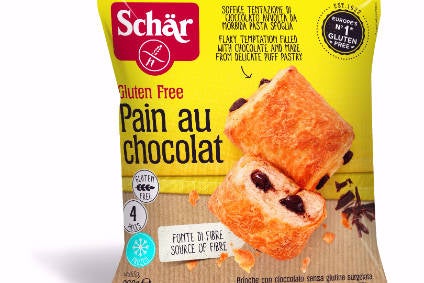 Dr Schär, the European free-from specialist, is expanding its offering in the UK with the launch of six new gluten-free items in the frozen and baked goods categories.
"We are dedicated to providing consumers with great tasting gluten free foods and our three new bread lines will help to further increase the options available to consumers. Extending the choice for those following a gluten-free diet is one of our core principles and we are excited about the latest innovations joining our portfolio," Bradley Grimshaw , MD of Schär's UK arm, said.
The product launches include: Schär Pain au Chocolat; Schär Seeded Ciabatta; Schär Salti Crackers; Schär White Baguette; Schär Veggie Pizza; and Schär Panini Rolls.
Grimshaw said that UK gluten-free bread sales are now worth GBP68m (US$89.4m) and growing at 10% year on year, while frozen gluten-free sales stand at GBP29.5m in the country and are growing at 30.4% a year. He believes that the sector is set for further growth. "The growing demand for these products really does present a significant opportunity for our retail partners. Our extensive portfolio enables us to meet the needs of all those consumers who want fantastic tasting, authentic gluten-free food."

The product launches are being supported by large scale ATL activity as well targeted marketing and PR to raise consumer awareness of the new products through both social and traditional media, the company said.