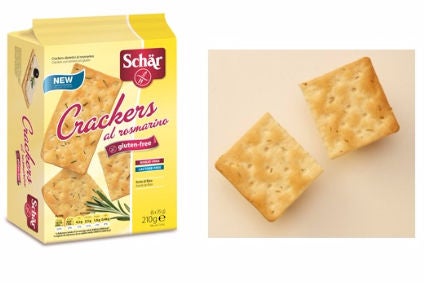 Dr Schär, the Italy-based gluten-free supplier, has launched a range of gluten-free crackers in Spain.
Crackers Rosmarino, with a "hint" of rosemary flavour, are aimed at the snacking market for those who have to follow a gluten-free diet.
They consist of individually wrapped sachets, each containing six crackers, which helps maintains their freshness and also makes them ideal for snacking while on the move, according to the manufacturer.
Schär, which is the number one brand in Europe for gluten-free foods, also produces a range of other products aimed at those who have particular nutritional requirements, such as those who must follow a low-protein diet, or those with specialist fat metabolism needs.
The brand, which is well known across Europe, was only launched in the UK last year, with nine new products. It replaced the company's previous DS-gluten free brand.
Schär has a 55% market share in Germany and plans to capture some of the UK's burgeoning gluten-free market.