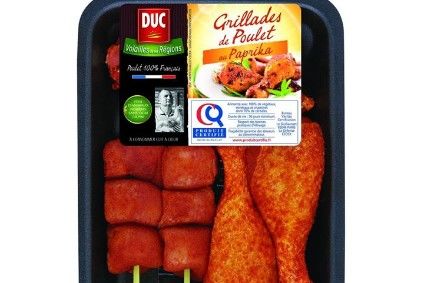 Embattled French poultry processor Groupe Duc reported lower sales in 2016 as a number of markets closed their borders to French poultry products due to bird flu concerns.
The company said annual turnover in 2016 declined to EUR165.38m (US$174.3m), down 8.43% from 2015's levels. Duc blamed the drop on the "significant consequences" of avian influenza on the group. In particular, Duc flagged the closure of the Chinese and South African markets to poultry products from France as a drag on the top line.
Duc also said that its result was damaged by falling meat consumption, which, according to figures presented by the company and compiled by Kantar, declined 2.1% in the period. Duc highlighted media coverage "devaluing meat consumption" as a cause for the drop.
A 97% stake in the struggling poultry group was acquired by Netherlands-based poultry processor Plukon Food Group at the end of last year. Duc, which has seen its sales come under pressure, had been in talks with Plukon and its major creditors to "ensure its financial stability". In its sales update, Duc revealed it has secured "significant" write-offs from its major creditors as well as an EUR11m cash injection.
In December, Duc booked losses of EUR5.6m for the first six months of the year.