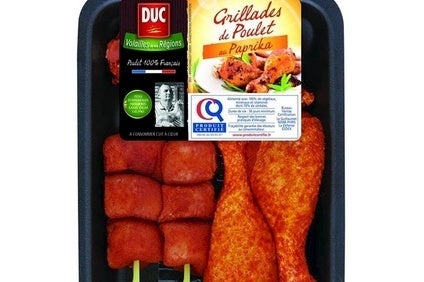 Duc, the France-based poultry processor, has reported an improvement in its profitability during the first half of its financial year despite a dip in sales.
The company booked a first-half net loss of EUR1.3m (US$1.5m) for the six months to the end of June, compared to EUR2.5m a year earlier. The group made an operating loss of EUR1.1m, versus a loss of EUR1.7m a year ago.
Duc provided a set of pro-forma profit figures, which took into account a new deal with its creditors signed on 30 June. On that basis, Duc made a half-year net profit of EUR850,000 and an operating income of EUR1.1m in the first half of the fiscal year.
Sales fell 1.3% to EUR91.6m. However, Duc said the decline had been less steep than in previous half-year periods.
Nevertheless, competition from imports hit Duc's frozen volumes to the foodservice channel.
The group said its moves to develop its export business "began to bear fruit" with "a regular flow of business to China", where it sells frozen chicken wings.