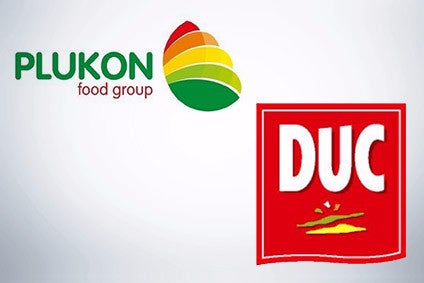 Netherlands-based poultry processor Plukon Food Group is to buy French peer Groupe Duc.
The deal, announced yesterday (20 December), will see Plukon first buy a 97% stake in Duc, with plans to then buy the remaining shares in what the French company called "a compulsory squeeze-out procedure".
Duc, which has been seeing its sales come under pressure, has been in talks with Plukon and its major creditors in recent weeks to, it said, "ensure its financial stability".
Last month, Duc asked for trading in its shares to be suspended as the company is in talks over a possible "significant transaction".
The discussions have culminated in a deal that will see Plukon take over the business, including shares owned by French agri-food co-op – and Duc creditor – CECAB.
Plukon has pledged to invest at least EUR20m (US$20.8m) in Duc to increase its production and retain all employees for at least four years, with an average of 802 staff on a permanent contract.
The deal will also cover EUR13.5m of the debts owed by Duc to its major creditors.
Alongside the announcement of the deal with Plukon, Duc said it had seen its losses widen in the first half of its financial year. The group's turnover, first reported in August, slid 7.2% to EUR85m. The company also presented unaudited data on its sales in its third quarter. Sales in the third quarter dropped 3.7% to EUR42.5m.
In 2015, Duc generated sales of EUR180.6m, down 2.5% on 2014. The company's profitability improved although it still made an operating loss amid pressure on selling prices. Duc posted an operating loss of EUR1.4m for 2015, versus EUR2.6m a year earlier. It booked a net profit of EUR570,000 against a net loss of EUR3.8m a year ago.