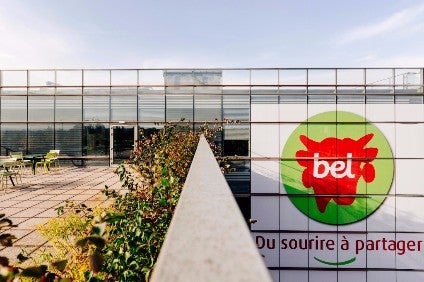 just-food presents the key metrics from company financials in bitesize format, with analyst insight and social media comment alongside graphs illustrating a business' historical performance to give you an easy-to-read digest of the numbers you need to know.
Friday 9 March
Bel Group 2017 sales tempered by Middle East, Africa
French dairy firm Bel Group said full-year sales were tempered by the Middle East and greater Africa region amid economic and political instability, and declining consumer purchasing power. A "strong" increase in dairy raw material prices also hit its results.
Looking ahead, the company noted the difficult operating environment in the Middle East will cloud the outlook for 2018 results.
– Annual sales rise 14% to EUR3.4bn (US$4.18bn) in 12 months to 31 December
– Operating income drops 27.9% to EUR215m
– Net profit down 15.6% at EUR180m
Ter Beke FY sales, profits surge on acquisition splurge
Belgium-based food group Ter Beke booked a rise in full-year sales and profits on the back of four acquisitions made in 2017.
The company acquired full-ownership or partial stakes in: France's ready-meals maker Stefano Toselli, Pasta Food Company of Poland; the UK's KK Fine Foods; and the fresh foods unit of Netherlands-based Zwanenberg Food Group.
– Pro-forma sales rise 63% to EUR680.5m
– Turnover up 22% at EUR508.6m
– EBITDA climbs 1.8% to EUR38.4m
– EBIT increases 21% to EUR22m
– Income after tax up 36% at EUR12.6m
Del Monte Pacific books nine-month loss
Singapore and Philippine-listed Del Monte Pacific booked a nine-month loss through 31 January due to one-off expenses related to the divestiture of its underperforming Sager Creek vegetable business in the second quarter and write-offs of deferred tax assets.
– Revenue falls 0.5% to US$1.7bn as higher sales in Asia were offset by lower sales in the US
– EBITDA declines 31.9% to $95.6m
– Operating profit drops 57% to $38.9m
– Posts net loss of $40.4m versus $21.5m profit a year earlier (excluding one-off expenses related to the Sager Creek closure in the Philippines, the group would have generated net income of $14.9m).
– Other one-off expenses related to the $39.8m write-off of deferred tax assets in the US due to new tax rates
Wednesday, 7 March
Calavo Growers books higher Q1 sales and income
US fresh produce supplier Calavo Growers has moved ahead in both sales and income terms in its first quarter, on a year-on-year basis.
Chairman, president and CEO Lee Cole said: "Calavo began fiscal 2018 in fine form, reaching new first-quarter highs for revenue, gross profit, operating income and net income. These results reflect top-line growth across all three business units and, in particular, the outstanding performances in our fresh and Calavo Foods segments where sales and gross margin dollars rose sharply to drive overall net income and per-share results."
Three months to 31 January
– Revenue up 9.4% to US$247.9m
– Operating income up 33.3% at $10.8m
– Net income up 34.6% at $7.0m
Dairy commodities weigh on Savencia profits
France's Savencia Fromage & Dairy has booked a fall in annual earnings, despite rising sales, with the company pointing to "significant increases" in commodity costs.
Savencia said yesterday (7 March) it could not fully pass on the rise in the price of dairy commodities.
The company reported its sales figures for 2017, booking a 9.8% increase in annual turnover.
Looking into 2018, Savencia said yesterday: "The volatility of prices of dairy raw materials and the need to be able to pass them on in selling prices remain the decisive issues for the coming period."
For the year to the end of December:
– Turnover up 9.8% at EUR4.85bn
– Operating income stood at EUR153.3m, down from EUR181m in 2016
– Net income reached EUR93m, versus EUR104.5m
MHP profits surge on prices, exports
MHP, the Ukraine-based meat processor and grain company, posted a three-fold rise in full-year profits as chicken prices climbed 24% and exports 16%.
– Revenue rises 13% to US$1.3bn in year to 31 December
– Adjusted operating profit climbs 15% to $365m
– Adjusted EBITDA up 11% at $459m
– Net profit surges to $230m versus $69m a year earlier
Tuesday, 6 March
Clearwater Seafoods sales up but impaired by FX
Canada-based Clearwater Seafoods said strength in the local dollar against the US currency, British pound and Japanese yen shaved CAD12m (US$9.3m) off its full-year sales and gross margin. But that was partially offset by hedging contracts, adding CAD3.1m of realised gains to adjusted EBITDA.
Clearwater noted a "lower total allowable catch" rate for coldwater shrimp and soft market conditions for langoustines and king scallops were offset by volume increases in clams, sea scallops and Argentine scallops.
– Sales rise 1.5% to CAD621m
– Adjusted EBITDA drops 10.2% to CAD108.6m
– Adjusted EBITDA attributable to shareholders falls 9.4% to CAD89.2m
Lindt & Sprungli FY profits up
Swiss chocolate maker Lindt & Sprüngli saw its net profit increase by 7.8% in 2017. The company also broke the CHF4bn sales barrier for the first time.
The company said: "Lindt & Sprüngli once again achieved to grow at a faster pace than the overall chocolate market in 2017, despite challenging conditions."
Organic growth in Europe amounted to 6.2%. Lindt performed particularly well in the two biggest chocolate markets of Germany and the UK, as well as in the mature markets of Italy, Austria and Spain.
– Sales up 4.8% at CHF4.08bn (US$4.33bn)
– Operating profit up 5.8% to CHF595.4m
– Net profit up 7.8% to CHF452.5m
Alain Oberhuber at MainFirst said: "Lindt's result was as expected, with higher cash flow and a new share buyback programme. However, the lower guided organic group sales growth for FY18, based on continued product realignment of its US brand Russell Stover remains disappointing. Based on the share buy buyback, we think that EPS-18E expectations will remain unchanged, although net income estimates could be around 2% lower. Market expectations for an EBIT margin improvement of +40bps look somehow toppish."
Clover Industries enjoys 6M sales and profits hike
South African dairy group Clover Industries saw its revenue increase by 7.7% in the six months to 31 December, on a like-for-like basis. Profits were also up as operating efficiencies kicked in.
The company said: "As communicated during September 2017, to re-align the business to the new 'normal' a rigorous series of efficiency improvement initiatives were implemented in the latter part of the prior financial year.
"These initiatives include, but are not limited to, the operational restructuring of the volume driven side of the business through the establishment of Dairy Farmers South Africa, the launch of Project Sencillo (asset optimisation programme), the ongoing roll-out of Project Masakhane, new product launches, and product re-formulations which resulted in lower ingredients and sugar costs – the aforementioned have started yielding encouraging results."
– Revenue up 7.7% at ZAR4.2bn (US$355.1m)
– Operating profit up 14.8% to ZAR370.4m
– Profit up 17.8% to ZAR233.2m
M. Dias Branco books FY 2017 growth
Brazilian pasta and biscuits maker M. Dias Branco saw its revenue increase by 1.6% in FY 2017, on a like-for like-basis. Net profit was up by 7.6%.
The company said: "These results reinforce our understanding that we are adopting the necessary and appropriate measures for the continuity of sustainable and profitable growth.
"In 2016, we restructured the sales area, in which our teams are taking on a more regional approach and selling brands and products that are appropriate to each region, increasing growth potential and streamlining our cost structure. Additionally, as we focus on increasing sales and building strong brands, we also expanded and redefined our marketing investments."
– Net revenue up 1.6% to BRL5.41bn (US$1.66bn)
– EBITDA up 5.1% to BRL966.4m
– Net profit up 7.6% to BRL844.3m
Monday 5 March
Emmi profit growth accelerates on reduction in minority interests
Swiss dairy company Emmi reported a 15% increase in full-year net profits due to a reduction in "minority interests", which fell by CHF10.8m (US$11.5m), mainly related to Mittelland Molkerei.
Commenting on the results, chief executive Urs Riedener said: "Emmi made up a good deal of ground in the second half of the year, boosted by the good sales performance in the US and Tunisia, a well-functioning cheese business and more favourable economic conditions."
– Sales climb 3.2% to CHF3.3bn versus 1.4% increase in 2016 – 2017 organic sales up 0.5%
– EBITDA rises 3.8% to CHF340.7m
– EBIT up 1.5% at CHF205.8m
– Net profit advances to CHF161.6m
For 2018, Emmi sees sales growing 2-3% with a profit margin of 4.5% to 5%
Alain Oberhuber, an analyst at Swiss financial services firm MainFirst, said: "The positive outcome from the numbers was the "stronger result on EBIT and net income due to more efficiencies and lower tax rates; increase of guidance for FY-18 and mid-term; higher dividend than expected as the company pays out the divestment of Siggi's".

In terms of negatives, he pointed to: "lower than expected free cash flow of CHF155.4m vs. our CHF175m due to higher capex and NWC; lower gross margin of 35.7% vs. our 36% due to stronger price pressure in Switzerland, but slight improvement in Americas and Europe".