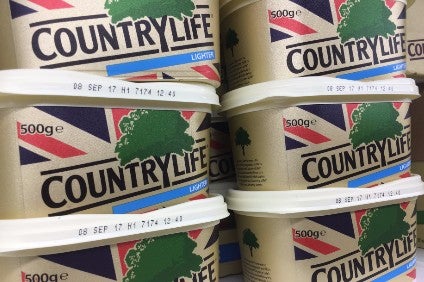 just-food presents the key metrics from company financials in bitesize format, with analyst insight and social media comment alongside graphs illustrating a business' historical performance to give you an easy-to-read digest of the numbers you need to know.
Dairy Crest 9M revenue "well ahead"
Dairy Crest, the UK dairy group, has reported nine-month revenues "well ahead" of the corresponding period a year earlier.
The company's four key brands – Cathedral City, Clover, Country Life and Frylight – grew their revenue by a combined 7% in the nine months to 31 December.
However, Dairy Crest said Country Life's sales volumes "continued to come under pressure" amid the year-on-year increase in the price of cream. That has eased and Dairy Crest said promotional activity on the brand would "pick up" during 2018.
Dairy Crest is set to report its annual results on 23 May.
Huegli full-year sales fall as Germany pulls down earnings
Swiss food group Hügli, which was acquired by Bell Food Group this January, reported a drop in full-year earnings led by its biggest market in Germany.
While revenue fell 1.7% in 2017 to CHF384m (US$412.1m), the company said organic sales picked up during the autumn after taking a negative hit from "several key accounts" earlier in the year.
– Sales in Germany decreased 3% to CHF222.3m
– In Switzerland and Western Europe, revenue dipped 0.1% to CHF129.6m
– Eastern Europe stood out, with sales up 1.8% at CHF32.1m
Vinamilk sales, profits up in 2017
Vinamilk, Vietnam's largest dairy company, has posted higher sales and profits for 2017.
For the year to the end of December:
– Net sales up 8.3% at VND51.13trn (US$2.25bn)
– Net operating profit 13.8% higher at VND12.23bn
– Net profit after tax attributable to equity holders of the company rose 14.1% to VND10.3trn
Tuesday 30 January
Greencore sees food-to-go drive sales on
Irish convenience foods group Greencore has enjoyed a sales surge in its first quarter (13 weeks to 29 December), driven by its food-to-go business in the UK and increased US volumes.
The company, which yesterday (29 January) announced the sale of its cakes and desserts business in the UK to Bright Blue Foods, recorded revenue of GBP640.5m (US$896.5m), an increase of 53.6% on the figure returned in its Q1 2016.
Greencore said it anticipates delivering a year of strong growth in FY18 and is well positioned to drive improved profitability, cash flow and returns over the medium term.
– Sales up 53% to GBP640.5m
– Convenience Foods UK & Ireland sales up 9.2% to GBP385.4m
– Convenience Foods US revenue up 297% to GBP255.1m
Jefferies International analyst Martin Deboo commented on Greencore's Q1 results: "Top-line growth is decelerating as Greencore laps last year's wins. But at high single-digits on both sides of the pond it remains robust for a mature market foods business. UK momentum continues strong and the US is accelerating ex the contract loss already disclosed. Falling capex is consistent with a return to meaningful free cash flow and Greencore should be a directional beneficiary from US tax reform."
J&J Snack Foods Q1 profits rise but foodservice hit
US-based J&J Snack Foods reports a bounce in first-quarter profits led by its retail and frozen beverages business segments, but noted a poor performance in foodservice.
– Net sales for the quarter to 30 December rise 18% to US$265.2m
– Operating income climbs 9.8% to $21.2m
– Earnings before income taxes increase 13.2% to $23.2m
– Net earnings almost triple to $36.2m from $13.6m
HelloFresh full-year earnings surge
HelloFresh, the German-based meal-kit maker formed in 2011 and listed in Frankfurt in November, reported a surge in fourth-quarter and full-year earnings.
– Preliminary revenue for the quarter rises to EUR250-253m, (US$310m-314m), a growth rate of 58%-59% from a year earlier
– For the year, revenue climbs around 51%-52% to EUR902m-905m
– Sees 69% year-on-year increase in customers to 1.45m
France's Fleury Michon reports lower FY sales
Fleury Michon, the French cooked meats-to-ready meals group, saw its sales inch up in the fourth quarter of 2017 but it was not enough to prevent a decline in revenues over the year as a whole.
Sales to French supermarkets, the bulk of Fleury Michon's business, fell 3.9% during 2017 and by 1% in the fourth quarter.
The company, which will report its full 2017 results in April, said its operating margins did improve year-on-year in the second half of 2017.
For the year to 31 December:
– Sales down 2.8% at EUR717m
– Q4 sales up 0.7% at EUR179m
Monday January 29
Rusagro revenues hit by sugar price slump
Russian sugar-to-mayonnaise maker Rusagro Group has seen a 7% decline in its FY 2017 revenues.
While its meat segment has seen sales rise, year-on-year, the business has been hit by declining sugar and agricultural product prices due to large output in the main producing countries, including in Russia.
– Total revenue down 7% at RUB89bn (US$1.59bn)
– Sugar segment revenue down 19% at RUB30.3bn
– Meat segment revenue up 15% at RUB20.5bn
Tipiak profit warning after sluggish results
French food group Tipiak saw its 2017 sales increase slightly but has warned the market in a trading update its operating income will be down sharply.
Tipiak said it aims to improve the product mix and optimise operational costs.
Its results were boosted by an increase in international sales of the Tipiak brand. These show an increase of about 2% in France but close to 10% internationally.
Sales under the Tipiak brand now exceed 59% of the group's total turnover.
– Net sales up 0.2% to EUR198.1m (US$245.9m)
Domty Q4 profits rebound on recovery in consumer demand
Arabian Food Industries (Domty) reported a rebound in profits in the fourth quarter amid a recovery in consumer demand, especially in carton packed white cheese, which the company noted is its most important product.
– Revenue climbs 33% to EGP615m (US$34.8m) from a year earlier
– Operating profit (EBIT) turns to EGP65.3m profit from a EGP20m loss a year earlier
– Net income grows to EGP30.6m versus EGP29m loss
– EBITDA rebounds EGP80m from a negative EGP4m
Friday 26 January
Sales up at sweets business Cloetta
Swedish confectionery business Cloetta has seen its full year sales increase (to end December) but operating profit was down compared to the equivalent period last year. The group called the year "challenging" and described its performance as "stable".
Cloetta said much of the increase in sales was as a result of adding fellow Swedish confectionery business Candyking to its portfolio early last year.
– Net sales up 13.3% to SEK5,784m (US$734.4m)
– Operating profit down 17% at SEK527m
– Profit before tax down 5.5% at SEK443m
Seneca sees sales rise but income fall
US canned products business Seneca Foods has seen its sales leap forward by 7.1% in the nine months to 30 December, on a year-on-year basis, but operating income declined by 47.9%.
The company said the sales increase is attributable to increased sales volume of US$32.9m and higher selling prices/more favourable sales mix of $36.7m.
– Net sales up 7.1% at US$1.05bn
– Operating income down 47.9% at $13.9m
– EBITDA down 18.4% at $36.8m
Thursday 25 January
McCormick hails 'record' results
US flavourings firm McCormick & Co. has seen both sales and income increase in its FY2017 results (year ending 30 November).
Lawrence Kurzius, the CEO of the Schwarz and Stubb's owner, said: "Our broad global flavour portfolio continues to drive growth and differentiate McCormick. In 2017, we delivered another year of record financial results with strong core business performance and the incremental impact of acquisitions."
For the 2018 fiscal year, McCormick expects to increase sales year-on-year by 12% to 14%, which includes a one percentage point boost from currency.
The company expects to achieve earnings per share of $6.89 to $7.14 in fiscal year 2018, including the non-recurring net favourable impact of the recent US tax legislation, compared to $3.72 in 2017.
– Sales up 9.5% year to year to US$4.83bn
– Operating income up 9.6% to $702.4m
– Income from consolidated operations before income taxes up 0.9% to $594.8m
Profits up but sales flat during Lancaster Colony H1
US garlic bread-to-salad dressings maker Lancaster Colony grew its profits in the first half of its financial year but a decline in second-quarter sales weighed on its top line.
Lancaster Colony said a "disruption" to the supply of its New York-branded garlic bread had hit its second-quarter sales. It also pointed to the impact the slowdown in US consumers eating out had had on its business in the foodservice sector.
The group's first-half net earnings rose, helped by a lower tax bill. Its operating income was down year-on-year.
For the six months to 31 December:
Net sales up 0.1% at US$618.6m
Operating income down 16.8% at $110.1m
Net income stood at $75.3m, versus $72.3m year earlier
Yowie reports "solid" Q2 sales
Australia-based confectioner Yowie Group – which earlier this month cut its forecast for its annual sales – has posted "solid" second-quarter sales.
Yowie reported a 23% rise in net sales to AUD5.4m (US$4.4m) for the quarter ending 31 December, leading to a 7% rise in half-year net sales to AUD10m.
The company, which will book its full first-half results next month, said its gross margins were "over 50%".
Yowie's move to cut its sales forecast at the start of this year hit its shares.
Chairman Louis Carroll said today: "Overall, the quarter sales were solid due to the Australian and Canadian additions to the portfolio. We are seeing encouraging results in the commitment in distribution in the US, Australia and Canada. While we prudently invest for growth, we are also intensifying our efforts to ensure Yowie is efficient and costs are managed very carefully."