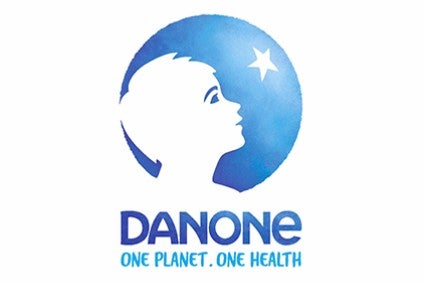 just-food presents the key metrics from company financials in bitesize format, with analyst insight and social media comment alongside graphs illustrating a business' historical performance to give you an easy-to-read digest of the numbers you need to know.
Danone keeps 2018 guidance as Q1 sales rise 4.9%
French dairy giant Danone reported growth in first-quarter sales and stuck with its guidance for the full year amid a "very strong" performance in its specialised nutrition division driven by Early Life Nutrition in China and an ongoing recovery in the Essential Dairy and Plant-based business.
For 2018, Danone expects double-digit recurring EPS growth at constant exchange rates, excluding the impact of the cut in its holdings of the Japanese probiotics drinks firm Yakult announced in February.
– Like-for-like sales up 4.9% at EUR6.09bn (US$7.5bn) – reported sales rise 10.8%
– International sales up 0.8% at EUR2.1bn
– Essential Dairy and Plant-based Noram division sales drop 0.2% to EUR1.19bn
– Specialised Nutrition sales rise 14.5% to EUR1.81bn
Jefferies International analyst Martin Deboo said: "We read Q1 as BN's strongest Q on the top line for 3 years and a signal of improving consistency. Beat is broad-based but led by Specialized Nutrition, where we see the strong contribution from Direct Channels in China as a positive." Mainfirst analyst Alain Oberhuber said: "We currently expect group organic growth rate to be at +3.8% for FY-18E vs. consensus of +3.2%. We currently expect a reported EPS-18E growth rate of +6.9% with a negative FX-impact of -4.3% and including the Yakult transaction impact of -2%."
Abbott infant nutrition sales up in Q1
US pharma group Abbott Laboratories has seen sales in its paediatric nutrition division increase in Q1 2018, on a year-on-year basis. They were led by its international sales, which were up by 10.5%.
Miles White, chairman and chief executive, said: "We're off to a strong start to the year as we forecasted. We're particularly pleased with the continued strong growth in medical devices and improving performance in our nutrition business."
– Paediatric nutrition overall sales up 7.3% to US$994m
– Paediatric nutrition US sales up 3.7% at $448m
– Paediatric nutrition international sales up 10.5% at $546m
Tuesday, 17 April
ABF H1 statutory profits drop due to disposals
Associated British Foods reported a drop in first-half statutory profits due to the benefit on its bottom-line earnings a year earlier from the sale of the group's US herbs and spices business and its south China cane sugar operations.
However, the Kingsmill, Patak's sauces and Ryvita maker saw sales and operating profits rise in its grocery division in the six months to 31 March.
Chief executive George Weston said: "Good sales and profit growth was achieved by all of our businesses at constant currency, other than sugar, where the reduction was as expected. Our full-year outlook for the group is unchanged with progress expected in both adjusted operating profit and adjusted earnings per share."
– Revenue rises 2% to GBP7.4bn (US$10.6bn) – in constant currency up 3%
– Adjusted operating profit falls 1% to GBP648m – in constant currency up 1%
– Adjusted profit before tax up 1% at GBP628m
– Statutory profit before tax down 30% at GBP603m
Grocery division:
– Revenue climbs 1% to GBP1.67bn in actual terms; adjusted operating profit rises 5% to GBP159m
German meat group Toennies sees sales rise
Toennies, the Germany-based meat processor, has reported higher annual sales.
The company booked sales of EUR6.9bn for 2017, up from EUR6.35bn in 2016.
"We are experiencing stable growth – contrary to the market trend," Andres Ruff, MD of the Toennies holding company, said. I feel confident about the future, despite the fact that price pressure and competition have intensified significantly in recent months."
The group does not disclose profits.
Domty Q1 profits turnaround on volume increase
Egypt's Arabian Food Industries – Domty – saw profits turnaround in the first quarter amid an increase in volumes, and growth in exports and distribution rates, with the latter expected to boost market share going forward.
– Sales rise 25% to EGP592m (US$33.4m)
– EBITDA EGP91.5m versus EGP19m loss a year earlier
– Profit before tax EGP52.4m versus EGBP5m shortfall a year earlier
– Net profit EGP40.5m compared to EGP6m loss