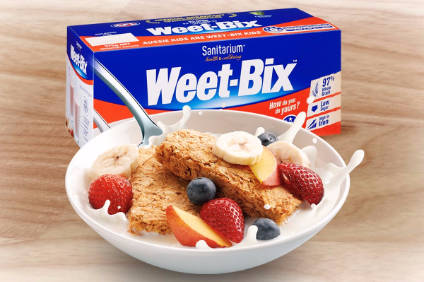 just-food presents the key metrics from company financials in bitesize format, with analyst insight and social media comment alongside graphs illustrating a business' historical performance to give you an easy-to-read digest of the numbers you need to know.
Lotus Bakeries books "record" FY turnover
Belgium-based snacks producer Lotus Bakeries said turnover in 2017 surpassed the previous year's "record" despite strength in the euro. It noted a "strong" second-half performance led by its natural snacking products, the continued internationalisation of the Lotus Bisoff brand and growth in Lotus Waffles.
– Turnover rises 3.3% to EUR524m (US$641.5m)
– EBIT up 0.9% at EUR89.3m
– Net profit climbs 3.5% to EUR64.6m
Pioneer Food revenue falls on commodity deflation
South Africa-based Pioneer Food Group said in a trading update that revenue fell in the three months to 31 December due to price deflation in soft commodities, but reported a surge in sales for its international business.
Going forward, the company expects the trading environment to "remain competitive".
– Group turnover drops 2.4% (falls 3.3% excluding its Nigeria business)
– Group volumes up 5.2%
– South Africa sales, excluding exports, rise 5.2% – says Weet-Bix, Liqui-Fruit and Ceres brands posted "excellent performances"
– International revenue, including South Africa exports, climbs 19.5%
"UK cereals business, mainly granolas, is showing good growth and should start to see the benefits of the recent acquisition of the Lizi´s granola brand; while the Nigerian business is reporting positive growth in both sales volume and pricing. The Heinz joint venture did not perform to expectations prompting corrective actions."
Fraser and Neave Q1 dairy sales hurt by drinks decline
Singapore-based food and drinks company Fraser and Neave said first-quarter turnover fell as dairy revenue increases in Malaysia and Thailand, and a rise in sales for ice cream and in new markets, could not compensate for a 16% drop in soft drinks.
– Sales decline 2% to SGD487.1m (US$366m) in quarter to 31 December from a year earlier
– PBIT rises 9% to SGD50.5m – helped by its 19.2% stake in Vietnam-based dairy company Vinamilk, which underpinned a 28% surge in dairy PBIT
– Profit after tax climbs 2% to SGD41.1m
Thursday 8 February
Kellogg predicts lower 2018 underlying sales
US cereal-to-snacks giant Kellogg has forecast its underlying sales will fall in 2018.
The Special K and Pringles owner said today (8 February) it expects its sales will fall by 1-2% on an organic basis this year.
The main factor in that decline will be the impact of Kellogg's decision to quit direct-store distribution in 2017.
In 2017, Kellogg saw its net income jump, its operating profit (and its comparable operating profit grow) but its net sales decline.
Kellogg's guidance for 2018 includes "flat net sales on a currency-neutral basis", which it said "implies an organic decline of 1-2%".
It also forecast adjusted operating profit growth of 4-6% and a 9-11% increase in adjusted earnings per share on a currency-neutral basis.
For the year to 30 December 2017:
– Reported net sales down 0.7% at US$12.92bn
– Comparable net sales 2.4% lower at $12.67bn
– Reported operating profit rose 39.5% to $1.95bn
– Comparable operating profit of $2.14bn, 7.5% higher
– Net income of $1.27bn, against $694m, amid a mark-to-market gain (versus losses in 2016), lower restructuring costs and the absence of a debt-redemption charge.
Pablo Zuanic, an analyst at US investment and trading firm Susquehanna International Group, said: "P&L metrics for 4Q and FY18 guidance are mostly in line, but ongoing weakness in the US cereal and snacks business is a concern, with both down mid-single digits LFL (with trends worsening vs 3Q). We would expect that to continue to hurt sentiment. Guidance for FY18 is mostly in line with our estimates (consensus had not adjusted for foreign exchange). Kellogg is one of the most discounted food stocks we cover, so the optionality comes from a hypothetical turnaround under the new CEO."
Tyson Foods Q1 profits mixed, sales up
Tyson Foods saw its first-quarter sales rise and its net income leap but the US meat giant booked a fall in operating profits.
The company's CEO, Tom Hayes, said: "The strength and diversity of our portfolio are evident. We drove solid results in each of our segments – beef, pork, chicken and prepared foods. We grew top-line sales, with our retail and foodservice sales both outpacing the industry. We're encouraged by the position we're in today.
"As we look to the long-term, we're confident in our ability to continue growing the business. Demand for protein continues to rise, and we're well-positioned to take advantage of that opportunity – and to fulfil our aspiration of sustainably feeding the world."
– Sales up 11.3% to US$10.22bn
– Operating income down 5.6% to $927m
– Net income up 78.9% to $1.63bn
Orkla ends 2017 with "strong" Q4
Nordic food group Orkla saw sales and earnings rise in 2017 and said it rounded off the year with a "strong" fourth quarter.
Operating revenues and underlying EBIT was up within Orkla's two divisions focused on packaged food – Orkla Foods and Orkla Confectionery & Snacks.
After a series of disposals in recent years, Orkla has narrowed its focus, with the bulk of its sales now coming from FMCG.
"All the business areas in branded consumer goods achieved organic growth and improved operating profit in the fourth quarter. The improvement was driven by both volume growth and price increases, as well as cost savings," Orkla president and CEO Peter Ruzicka said.
Selected divisional results for the year to 31 December 2017:
Orkla Foods:
Operating revenue up 4.2% at NOK16.13bn (US$2.04bn)
Organic revenues rose 1.4%
Adjusted EBIT 4.4% higher at NOK2.06bn
Orkla Confectionery & Snacks:
Operating revenues grew 3.6% to NOK6.44bn
Organic revenue growth was 3.1%
Adjusted EBIT up 11.5% at NOK1.05bn
Sanford Bernstein analyst Andrew Wood, reflecting on Orkla's fourth-quarter numbers, said: "it was an excellent quarter for Orkla – the first time we have been able to say that since picking up coverage of the stock in late 2016. Q4 was ahead of our quite bullish expectations on all major metrics and so was massively ahead of consensus. Confectionery & Snacks (+3.9%) and Ingredients (+3.4%) were all well ahead of expectations, only Foods (+1.3%) disappointed a little."
Emmi ekes out underlying sales growth in 2017
Emmi, the Switzerland-based dairy group, today reported a slight rise in annual sales on an organic basis after a recovery in the second half of 2017.
In August, the owner of Onken yogurts and Caffè Latte lowered its forecast for organic sales after a fall in the first six months of the year.
Over 2017 as a whole, Emmi's sales inched up 0.5% on an organic basis, which excludes the impact of exchange rates and M&A. The annual growth came after a 1.3% drop in the first half of 2017.
Reported sales grew 3.2% to CHF3.36bn (US$3.55bn). Sales rose in the Americas and Europe but fell in Switzerland.
Emmi reports its full 2017 results on 5 March.

MainFirst analyst Alain Oberhuber wrote: "Emmi published a better-than-expected 2017 organic growth rate with +0.5% versus our estimated -1%, driven by stronger high margin desserts business as well as strong cheese business in the Americas. The organic beat was in all three regions but primarily in Europe. The challenge remains with the yogurt business in the UK. The brand Onken, which is an estimated sales of CHF50m and is produced in Germany, continues to be suffering from Brexit. The devaluation of the British pound had a negative impact on Onken's competiveness in the UK."
Wednesday 7 February
Savencia FY sales rise on higher prices
French dairy group Savencia Fromage & Dairy reported a 9.8% increase in full-year sales revenue led by growth in international markets and higher prices for far materials. The company said volumes rose faster in South America and the Asia-Pacific region than in the European markets.
– Sales revenue climbs to EUR4.85bn (US$5.96bn), with organic growth of 10.8%
– Cheese division sales rise 5.7% to EUR2.76bn
– Other dairy products segment up 15% at EUR2.23bn
Flowers Foods sees signs of top-line progress in Q4
US bakery group Flowers Foods saw its sales and earnings fall in 2017 but the TastyKake owner's top-line trends appeared to improve in the last quarter of the year.
"Our team delivered solid sales growth and great products and service in the fourth quarter, with consumer demand for organic Dave's Killer Bread driving top-line growth and offsetting a challenging marketplace for traditional bakery items," Flowers Foods president and CEO Allen Shiver said.
For the quarter to 31 December:
– Sales increased 0.6% to US$873.6m. Excluding sales related to an asset disposal, sales increased 1.1%.
– EBIT was $46.4m, compared to $21.2m in Q4 of 2016
– Net income hit $78.5m, up from $13m a year earlier
– Adjusted net income decreased 2.1% to $35.8m
– Adjusted EBITDA dipped 0.7% to $91m
For the year to 31 December:
– Sales decreased 0.2% to $3.92bn. Excluding sales related to the asset disposal, sales increased 0.4%
– EBIT was $162.9m, versus $263.9m in 2016
– Net income down 8.3% at $150.1m
– Adjusted net income decreased 3.8% to $187.2m
– Adjusted EBITDA dipped 0.7% to $449.8m
Hain Celestial sees 6M profits surge
US organic and natural food products business Hain Celestial has seen an increase in sales and profits in the six months to 31 December, on a year-on-year basis.
The Ella's Kitchen, Earth's Best and Linda McCartney owner saw net income increase by 87.3%.
CEO Irwin Simon said: "We are pleased with the increase in net sales and profitability across our international business segments for the second quarter along with contributions from various brands in the United States, which reflects our well-diversified geographic portfolio. Our team remains intently focused on generating the growth we believe we are capable of achieving from our brand building efforts.
"Throughout our organisation, we continue to make progress on our long-term strategic priorities and Project Terra cost savings initiatives."
– Net sales up 4.2% to US$1.48bn
– Operating income up 22.8$ to $67.7m
– Net income up 87.3% to $66.9m
HKScan full-year loss blows out on Rauma ramp-up costs
After issuing a profit warning last month, HKScan delivered a full-year EBIT loss of more than double what the Finland-based food group anticipated as the ramp-up of its Rauma poultry unit weighed on sales. It said the results were a "clear disappointment".
– Net sales in year to 31 December drop 3.2% to EUR1.81bn (US$2.23bn)
– EBIT turns to EUR40.3m loss versus EUR9.7m profit a year earlier (forecast EUR18m loss in January)
– Posts net loss of EUR42.4m compared to EUR3.6m loss
"Our performance is not yet acceptable and we are in an early phase of the turnaround," HKScan said in an earnings statement. "The Rauma poultry unit ramp-up phase has been more challenging than anticipated and has eroded our result significantly. It increased operative costs and temporarily weakened our poultry delivery capability in Finland. In the long run, our Rauma plant will substantially improve our efficiency and competitiveness as planned."
Meiji Holdings 9M food sales, profits wane
Meiji Holdings, the Japan-based food group, has reported lower sales and operating income from its food business.
The dairy-to-confectionery supplier, which also has interests in the pharmaceutical sector, posted a 1.9% drop in operating income from its food division amid lower sales of yogurt and rising raw-material costs for its processed-food business.
The net sales from Meiji's food division, several times larger than its pharmaceutical unit, dipped 0.5% as sales from its processed foods arm slid on lower ice-cream sales.
For the nine months to 31 December:
– Food segment net sales down 0.5% at JPY819.5bn
– Food segment operating income 1.9% lower at JPY65bn
– Group net sales up 0.3% at JPY936.82bn
– Group operating income 6.2% higher at JPY72.17bn
– Group net income rose 9.6% to JPY50.72bn
Murray Goulburn remains in the red as milk intake drops
Murray Goulburn's run of losses continued in the first half as the Australian dairy cooperative said suppliers either retired or ceased milk supply. But the company said its results were "partially offset by benefits delivered from efforts to address the group's cost base and the implementation of various commercial enhancements".
However, the co-op warned that a further decline in milk supply would cause an impairment on its assets and could ultimately, going forward, cast doubt over its viability as an on-going concern unless a takeover by Canada's Saputo is approved by regulators.
– First-half sales to 31 December drop 5% to AUD1.12bn (US$881.49m)
– Posts profit before tax of AUD35.1m versus loss of AUD47.8m a year earlier
– Reports loss after tax of AUD27.5m compared to AUD31.9m loss a year earlier

Tuesday 6 February
Lantmannen food profits slide on "tough competition"
Swedish agri-food company Lantmannen posted a rise in full-year food sales but saw operating profit slide as its Cerealia division was "negatively affected by particularly tough competition in large parts of the market and by costs of ongoing projects".
The company said those "projects" included the capacity expansion of its mill in Strängnäs and the relocation of production from Odense to Malmö.
– Full-year food sector net sales rise 2% to SEK14.35bn (US$1.8bn) in 12 months to December
– Operating income slides to SEK739m versus SEK1.06bn
For the group:
– Full-year sales rise 6.7% to SEK39.69bn
– Operating income up 4.3% at SEK1.68bn
– Net income climbs 3.1% to SEK1.31bn
Monday 5 February
Bonduelle H1 sales up on canned growth
France-based vegetables group Bonduelle has booked a 1.6% rise in underlying first-half sales, helped by a 3% increase in sales of its canned food.
On a reported basis, Bonduelle's sales jumped 38.5%, helped by last year's acquisition of US-based fresh produce supplier Ready Pac Foods.
Excluding the impact of that deal – and stripping out the effect exchange rates – had on the results, a 3.6% rise in Bonduelle's canned sales, plus a 0.4% increase in sales of its frozen foods, offset a decline in its fresh processed arm.
The company plans to report its full first-half results on 1 March.
– H1 sales up 38.5% at EUR1.42bn (US$1.26bn)
– LFL H1 sales 1.6% higher